Studio Notes Vol. 13 - Choose Must
On working from home & the blurring of life boundaries.

Dear Friend,
This week I found myself again at the crossroads of should and must.
As the world opens up, errands and client work have trickled back into my to-do list. Of course this is a welcome shift—I'm grateful to be of service, especially when millions have been put out of a job. If you've managed to hold on to your livelihood, know that you are incredibly lucky. If not, I know these words are not enough but nonetheless: I am so sorry to hear you had to go through that. I also hope to gently remind you that you can certainly bounce back. I know you will. If there's any way I can help, please don't hesitate to reach out.
As a freelance artist, I'm accustomed to working from home. But as months passed, I also struggled with the transition as I can imagine you did, too. This is why moving forward, I want Studio Notes not only be a venue to think out loud but also to offer more practical value to this community.
Today, I challenge you to honor the possibility that your wildest dreams can still happen—yes, even in the midst of this pandemic and grief-stricken world. Every struggle you encountered thus far was not met in vain. Consider that they were leading you up to realizing your true potential. Whatever your aspirations are, know that "If it's humanly possible, consider it within your reach." (Marcus Aurelius) Living according to your personal why unlocks the door towards deep fulfillment—and for that reason alone, it's worth it to at least try.
In my experience, I didn't have a real-life mentor for navigating into the art world. For the most part, I learned by doing—figuring things out through trial and error. This is what pushed me to seek my own mentors—in the form of books, podcasts, films, and music. I learned from the best philosophers and artists I could find: world-class performers such as Ryan Holiday, Ariana Grande, Robert Greene, Brene Brown, and many more living heroes I look forward to sharing. It was in borrowing their wisdom that I learned how to teach myself and never stop learning. To whatever challenges lay ahead, the teacher appears when the student is ready.
I read Elle Luna's The Crossroads Of Should & Must during a pivotal time in my life. I was a few months out of college and deep into my funemployment stage. Reading her work helped me embrace some serious uncertainty. If this sounds like you right now, I have high hopes that this book can do the same for you.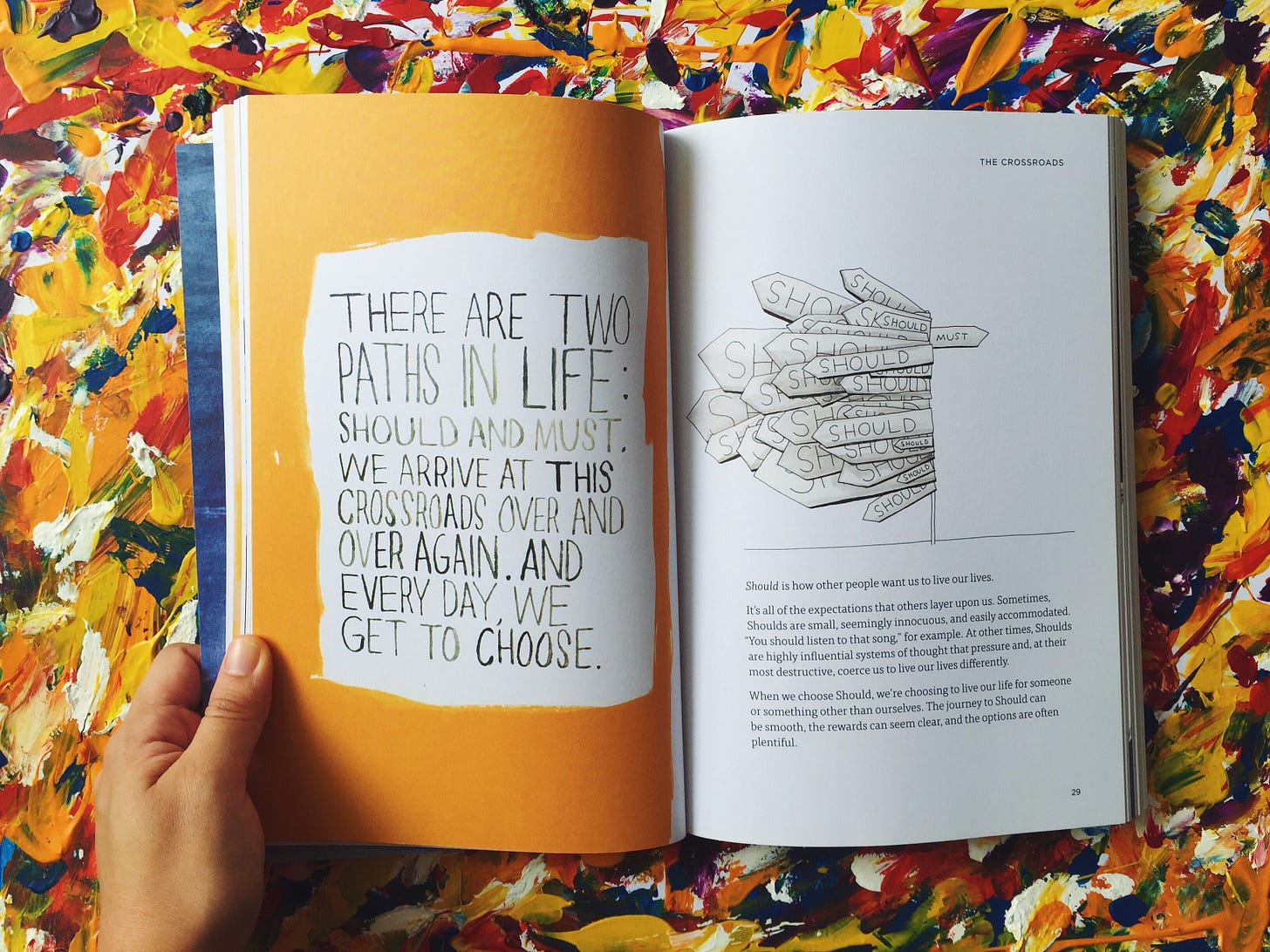 Luna defines "Should" as what others have always told us we ought to do. These form in us from childhood. When a Should is deeply ingrained, we live lives we thought we wanted but which've actually been dictated by other people's goals.
On the other hand, "Must" is "who we are, what we believe, and what we do when we are alone with our truest, most authentic self." It's the essence of purpose and potential—what you are especially equipped to do. In arriving at Must, it's equally important to look at the Shoulds as these clue us into why we haven't pursued our desires in the first place. Obstacles such as financial instability and possible judgment are examples of these potential roadblocks.
Still, Luna asks questions that matter: What are the what if's that keep you awake at night? How does your Must fit in with making this world a better place? She provides tools instead of answers, because these questions are yours alone to face. My favorite takeaway from her is the habit of asking and acting on the following: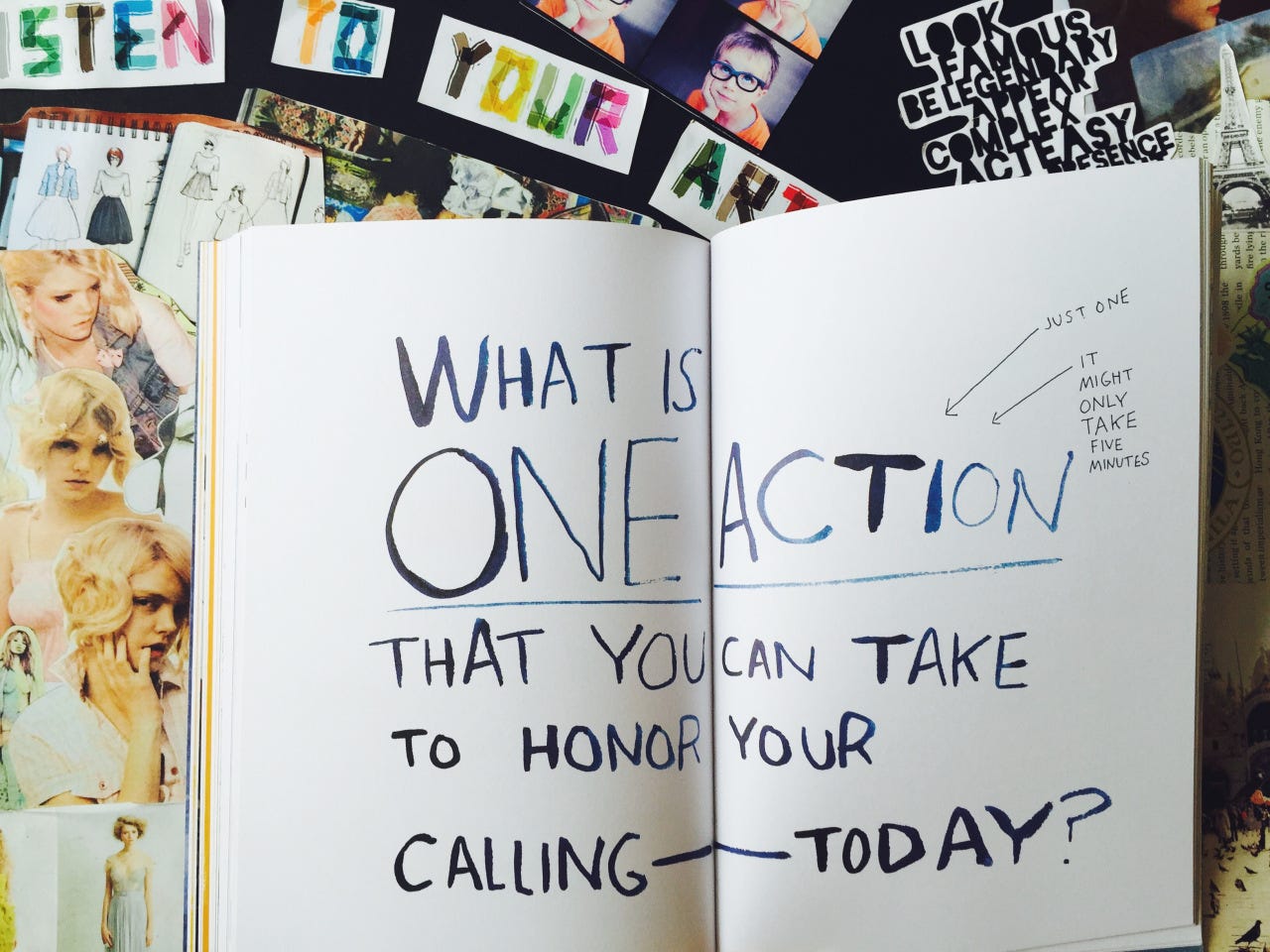 For Luna, her journey started with discovering the distinction between a job, a career, and a calling. "Your job is what you do for money. Your career is a series of reward-based advancement, personally and professionally. Your calling is what is intrinsically fulfilling, what you would likely do regardless of potential pay or day of the week."
The good news is, these can intersect. It's really up to you. As you reflect, you'll see life has really been preparing you for your next chapter, whatever it may be. As as an independent artist & entrepreneur today, my challenges now are different from when I started my career five years ago as a restaurant marketing employee. But I wouldn't have arrived here without those early experiences, and it was from my first job that I discovered my passion for business dev. However, my calling has always been to create—with colors and words—so I continue to find ways to blend these interests into my days. I try to balance the blurring of boundaries by taking real breaks to play and recover.
It's a work in progress. But I think living a creative life really boils down to how willing you are to be resilient. It's having the audacity to risk failure. It's being brave enough try again. How I operate today is mostly a result of my own research—and the things I've learned, I'm more than happy to share with you.
My only hope is that you pay it forward in your own life, in your own way. You'd be surprised with the waves you'll make if you'll be willing to start with tiny ripples of change.
Allow yourself to choose must again.
Love, B
PS. At this point I'd love to know: Do you have specific questions for me? Where are you in your journey and how can I share value to you in any form? Let me know!
PPS. Feel free to repost image below and tag polipaints + Elle Luna!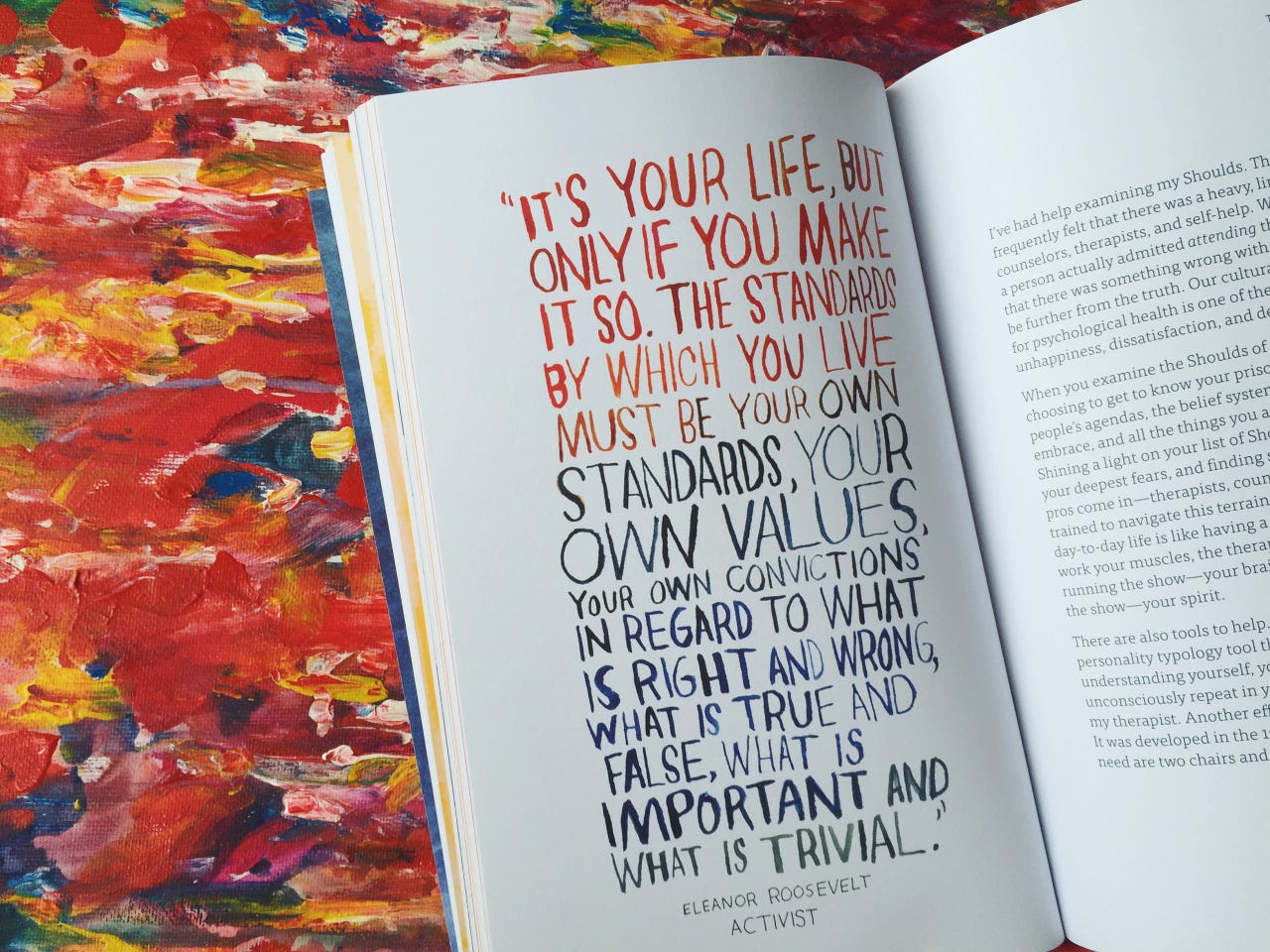 PPPS. Here's where I drop my recos for the week: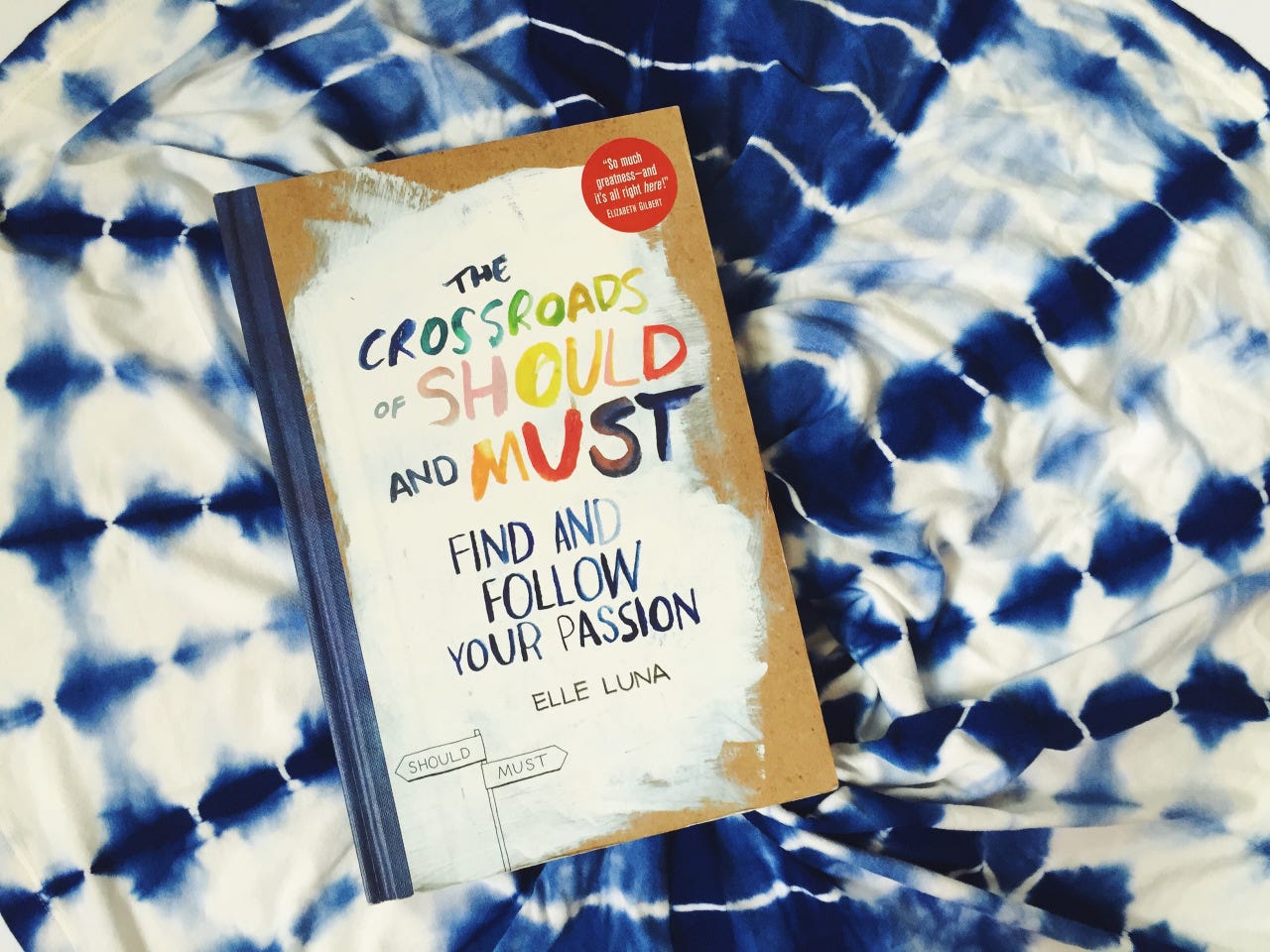 READ: The Crossroads of Should & Must by Elle Luna - A beautifully written & illustrated book. I linked her original viral Medium article of the same title!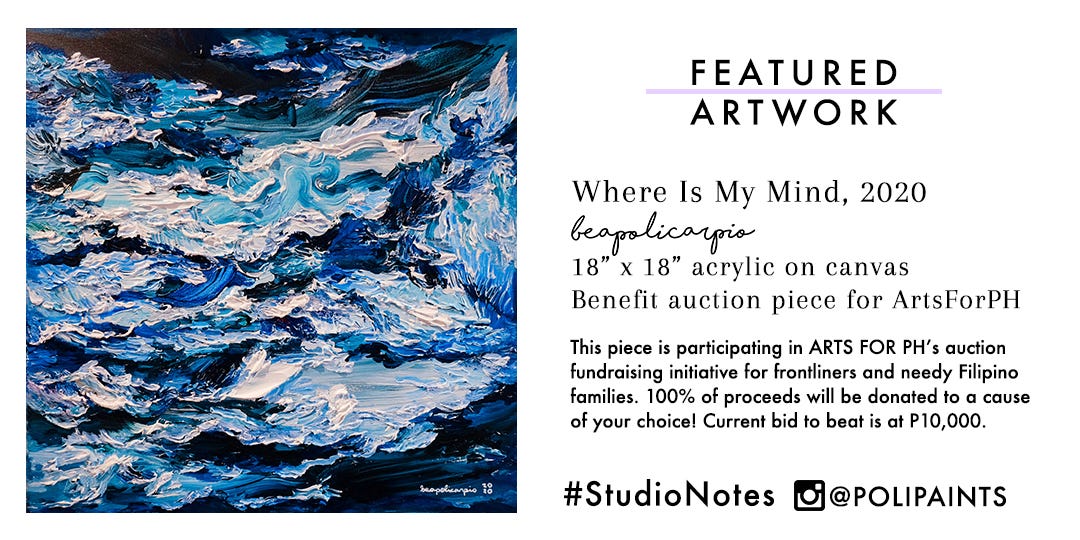 If the spirit moves ya, place your bid here! The auction ends this June!
Thank you for your time. Whether you loved, hated, or felt nothing towards this issue of Studio NotesI want your feedback. Reach out via email, IG DMs or Twitter @beapolicarpio.
Read my previous letter, Vol. 12 - Wake Up!