Studio Notes Vol. 10 - Empathy Over Everything
So I was hungover on a Tuesday.
Dear Friend, 
On Monday night, I found myself vaguely angsty. 
By all accounts though, it was an above average day: I had not only finished the day's work, but I managed to complete my self-care trifecta of journaling + meditating + exercising and a bonus Facetime check-in with my accountability buddy. Still, moodiness persisted. 
I should've slept it off, but instead, I sought comfort in a tequila tonic-powered studio session. With Netflix in the background, I painted to the scenes of Before Sunrise: a poignant film about two strangers meeting on a train which led to them spending the next 24 hours exploring Vienna together, just talking. Sharing their coming-of-age stories, distant hopes, and mundane humanness, what made their dialogue so profound was the theme that underneath the surface, they were more alike than they were different. Long story short, I ended up tipsy and teary-eyed.
The next morning, I realized what I had simultaneously been trying to label and avoid was simply: loneliness. When I feel this, my impulse is to distract myself with either work or entertainment. But I'm equally aware that—especially in quarantine—loneliness in itself isn't something to be ashamed of. It's simply another color in the spectrum of human emotion. In therapy, one of the basics we're taught is that emotions are not enemies, they are meant to inform us. 
This brings me full circle to why I decided to reach out via newsletter. Prior to lockdown, I'd observed my lowkey dissatisfaction with how I'd been approaching digital life. I'd been wanting to connect with others in a more meaningful way beyond the fleetingness of a news feed. The truth is, it can get pretty lonely creating all by myself in the studio, so sending Studio Notes has been a concrete step towards inviting others into my corner of the world. But as the weeks passed, the irony is I've also found myself overthinking this content: Have I been too preachy, long-winding, or worst of all, too narcissistic?  
In Robert Greene's The Laws of Human Nature, he writes of self-absorption and narcissism: "People simply spend less time in social interactions and more time socializing online, which makes it increasingly difficult to develop empathy, which like any skill, comes through the quality of attention. If your attention is continually interrupted by the need to look at your smartphone, you are constantly drawn back to yourself, flitting about the surface of social interactions, never really engaging. Even in a crowd, you remain essentially alone." 
With this intention to connect, in the past week, I started reaching out to old friends with an invitation to subscribe, thinking this would be a good opportunity to start a new conversation. Most were gracious and supportive, some seenzoned (which is also understandable), but I didn't expect to receive a few hostile responses, too. The experience of metaphorically knocking on people's doors (in this case, inboxes) was humbling—I took it as a massive opportunity to exercise empathy. 
Defined by Greene as "emotional attunement to another's spirit, moods, and values," empathy is a superpower we all have at our disposal, but which we collectively underutilize, especially online. The fact is, when you engage with anyone from behind a screen, it's infinitely harder to discern what mood you're catching them in. No matter how pure your intentions may be, it's also impossible to please everyone every time you decide to contribute to the conversation of the news feed. When online, I've found that observing negative emotions as cues to be used rather than taken as total reality has significantly helped ground instead of drown me: Loneliness becomes a call to love, comparison as a plea for connection, and envy a cue to activate empathy. Every adversity, a new canvas for art. 
As life grows increasingly digital in 2020, I hope we can all approach our interactions with more compassion than ready criticism. The next time you scroll, try to remember that everyone—from your college classmate to that influencer you admire—is just trying to put their best foot forward. This pandemic has been the great equalizer of our times: No one is exempt from facing the uncertainty that lies ahead and cultivating the resilience to survive. Offline, may we empathize with ourselves if we still feel down despite our best routine efforts. Online, may we choose grace over gossip, compassion over comparison, and cheering over competition. Let's not isolate each other further, we're all in this together.
Just like in Before Sunrise, I look forward to the day the world can go back to being a simple place where two people can walk up to each other and talk at any time. But until then, let us see the Internet as an extension of the world as it should be: a place where each person can freely express without fear, and even find friendship in a sea of strangers. To quote Celine from the film, "If there's any kind of magic in this world it must be in the attempt of understanding someone sharing something. I know, it's almost impossible to succeed but who cares really? The answer must be in the attempt."
May we attempt to understand each other and never give up, 
B
PS. Feel free to share the art below and tag @polipaints!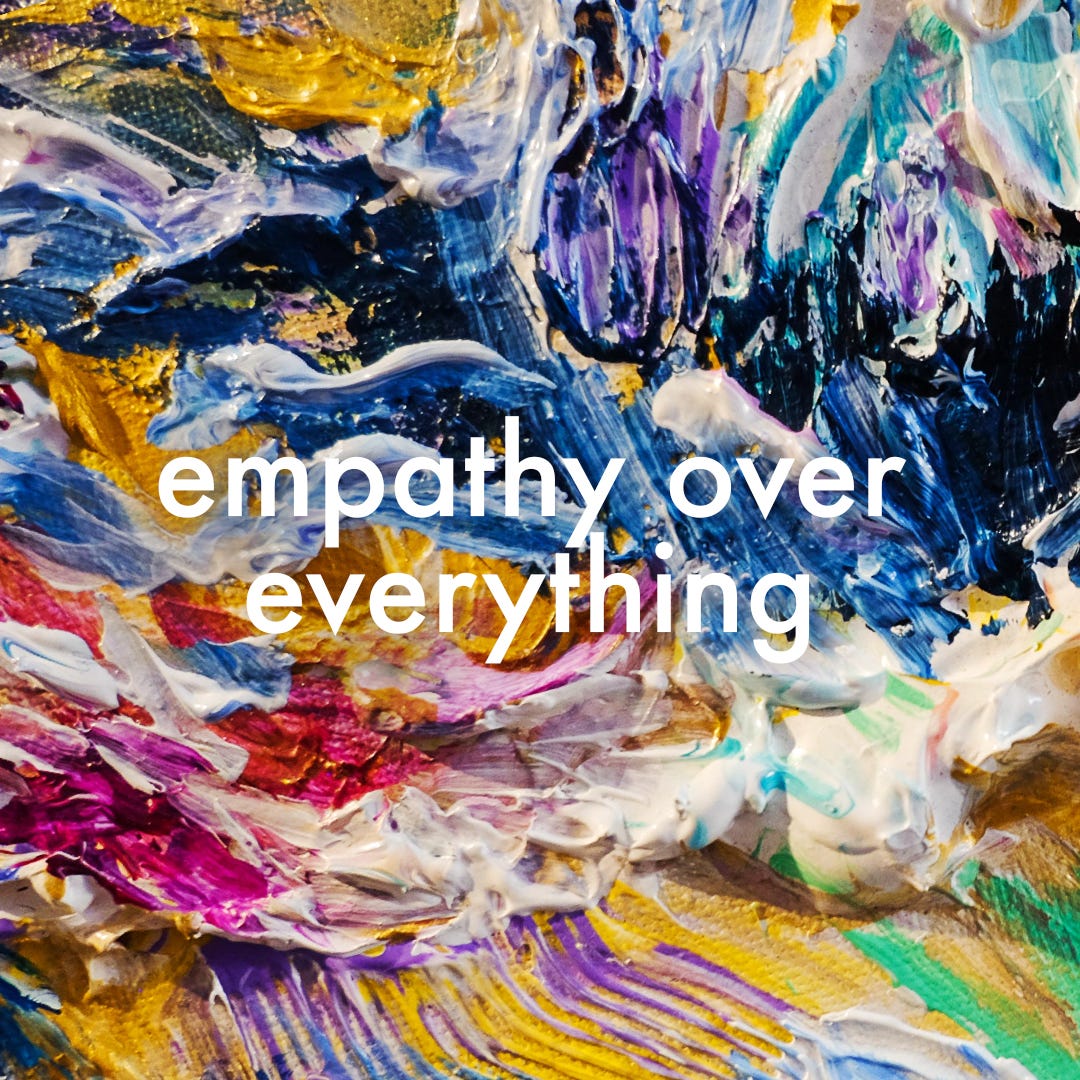 PPS. Here's where I drop my recos for the week!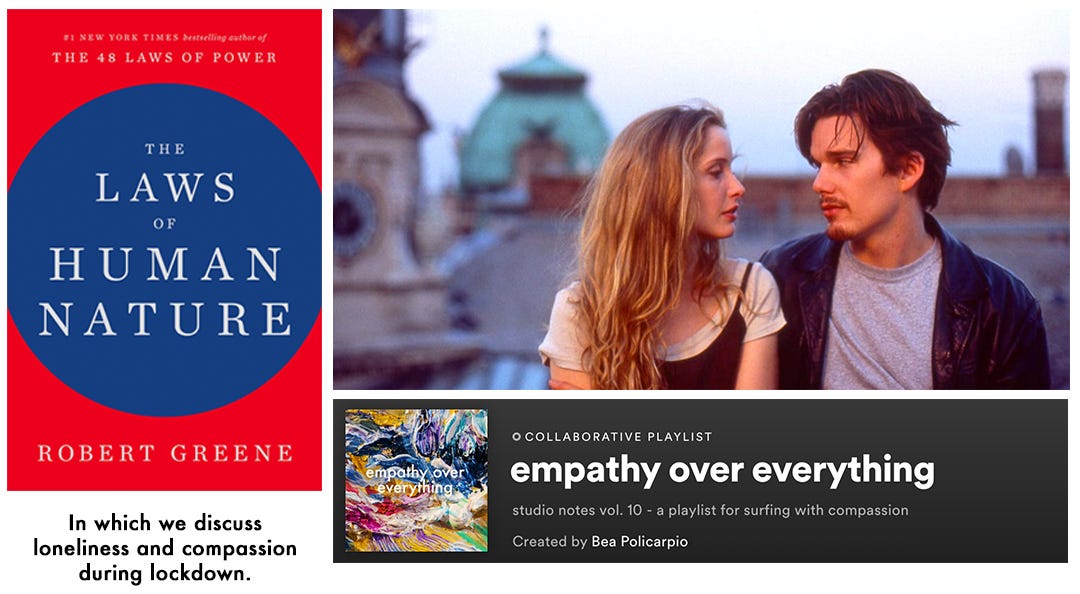 READ: The Laws of Human Nature by Robert Greene - Robert Greene is hands down one of my favorite authors, and this latest title is a masterpiece of a psychological and philosophical study of the human condition. 10/10 will be covering again in future notes. 
WATCH: Before Sunrise, 1995 - Since all new romantic interactions are postponed to 2021, let us live vicariously through this classic (lol)
LISTEN: Empathy Over Everything, a Spotify playlist curated by DJ POLIZEI - a funky & upbeat playlist for cruisin' through the next week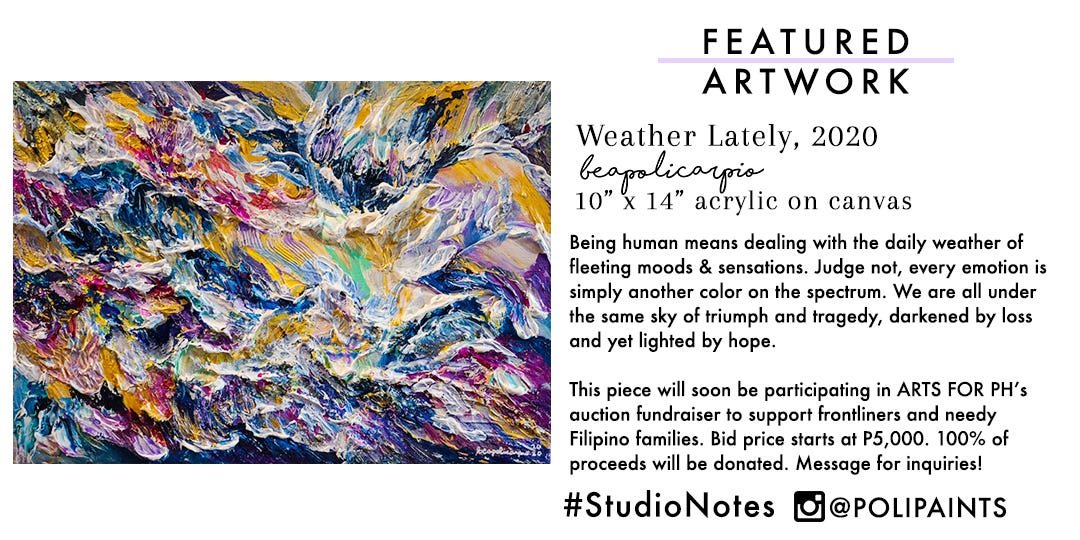 Thank you for your time. Whether you loved, hated, or felt nothing towards this issue of #StudioNotes, I want your feedback! Reach out via email, IG DMs or Twitter. Stay healthy and with any luck I'll see you again next Friday! xx
Read my previous letter, Vol. 9 - Overcome the Past.
Binge read from the top with Vol. 1 - Start With Why.
---
The artist, elsewhere:
@BEAPOLICARPIO | @POLIPAINTS | Blog | Twitter | Facebook | Tiktok | Art Tiktok