Studio Notes Vol. 9 - Overcome the Past
Something deeply upset me and I wasn't sure why.

Dear Friend, 
Three weeks ago, something deeply upset me and I wasn't sure why.
In the middle of filming a video, my cheap tripod decided to throw in the towel and drop my phone onto the concrete floor. I'm sure you're familiar with that suspenseful second before checking to see if your phone survived a fall. My heart dropped seeing that a portion of the screen was now permanently white. :(
Thankfully, none of my data was compromised, which should have been reassuring. But I really didn't handle the situation very well. I made sure the tripod learned its lesson (don't ask), snapped at everyone at home, and was sulky for days. That wasn't very amor fati of you Bei, my conscience said disapprovingly. Yeah and I don't care, I gnarled back. So she's human after all. "It's your window into the world, of course anyone would be upset. I know I would be," a good friend consoled me. She was right, now my window had a blank white crack I couldn't ignore. Fast forward to now, I can't believe I'm writing this—but I'm glad it happened.  
The mishap was what prompted me to take a time-out from the Internet. I took the time to examine why I was so upset in the first place, practical reasons aside. "When the person I thought I would always be suddenly wasn't, when I cracked the mold and asked what other stories I might tell about myself, the life I made so carefully looked strangely small." (Harling Ross)     
Processing this with my therapist via video call, the culprit we found was the underlying belief that my iPhone housed all my cherished virtual memories and my digital creative freedom, too. But my camera roll is not the sum of my experiences, nor is it the gatekeeper of my memories. I am. And so are the people I shared those memories with. My online presence isn't the full expression of my creativity, I am. They are merely the tools to be used, but I'd been letting them use me and take up space in my present.  
As I recently finished the Marie Kondo method for my room, I realized it's harder to toss out "what doesn't spark joy" in the mind, and in my phone. "When you put your house in order, you put your affairs and your past in order, too," Marie wrote. I'm slowly doing this by purging the 25,000+ snaps I've accumulated from using an iPhone between 2013-2020. I know, it's a lot—sometimes I'm troubled by feeling that perhaps I've prioritized documenting life over living in the moment.
But I can't take it back, so I try not to dwell. The flipside is, now that the future is uncertain, I still have a surplus of happy times to look back on. My memories have never been as vivid as celebrating them stitched together as vlogs for my family. In the same way, going through my Instagram always leaves me glad that I made the effort to keep a visual diary of both my life's highlights and hard lessons earned. As I clear space in my devices and my brain, sifting through surviving evidence of the "old normal," I find myself pausing every so often to grieve.
I often seek comfort in Jim Carrey & Kate Winslet's Eternal Sunshine of the Spotless Mind: a bittersweet film about ex-lovers using a dystopian brain procedure to literally delete all their shared memories, taking us on a mental map of their relationship. With its bizarre storytelling and moody humor, it's a strange choice of a pick-me-up. However, it's always revealed wisdom during personal lows: I realized I've been terrified to "lose" versions of myself—even the ones I've long outgrown, or would rather forget. 
What makes Eternal Sunshine so moving is the truth that memories leave a lasting imprint on us, whether we like it or not. We may forget what exactly happened and but the feelings remain embedded in us until we decide we've felt what needed to be felt. As another good friend loves to remind me, when it comes to memories made with people no longer in our lives: Nobody can touch that time. Even if the person in question happens to be ourselves. 
Like the film, I'd imagine how it would be like to tour my past brain, but as I would an art museum—viewing old memories with a curious eye and a degree of detachment. Most importantly, I don't live there. I can look to these artifacts for clues, but not answers—the artist of that time is long gone. Besides, it's impossible to outrun or run out of the past: We create more of it everyday. What we can do however, is choose to overcome our past—by accepting that it is indeed over, we come fully into the now. 
Months into quarantine, I've seen many try to improve themselves by discarding the non-essential and taking up new habits. As I end here, I want to both affirm and challenge you: Wherever you are in your journey, your new life is going to cost you your old one. But take all the time and baby steps you need towards paying that price—because it's going to be worth it. 
With each pray'r accepted and each wish resign'd, 
B
PS. Feel free to share the art below and tag @polipaints!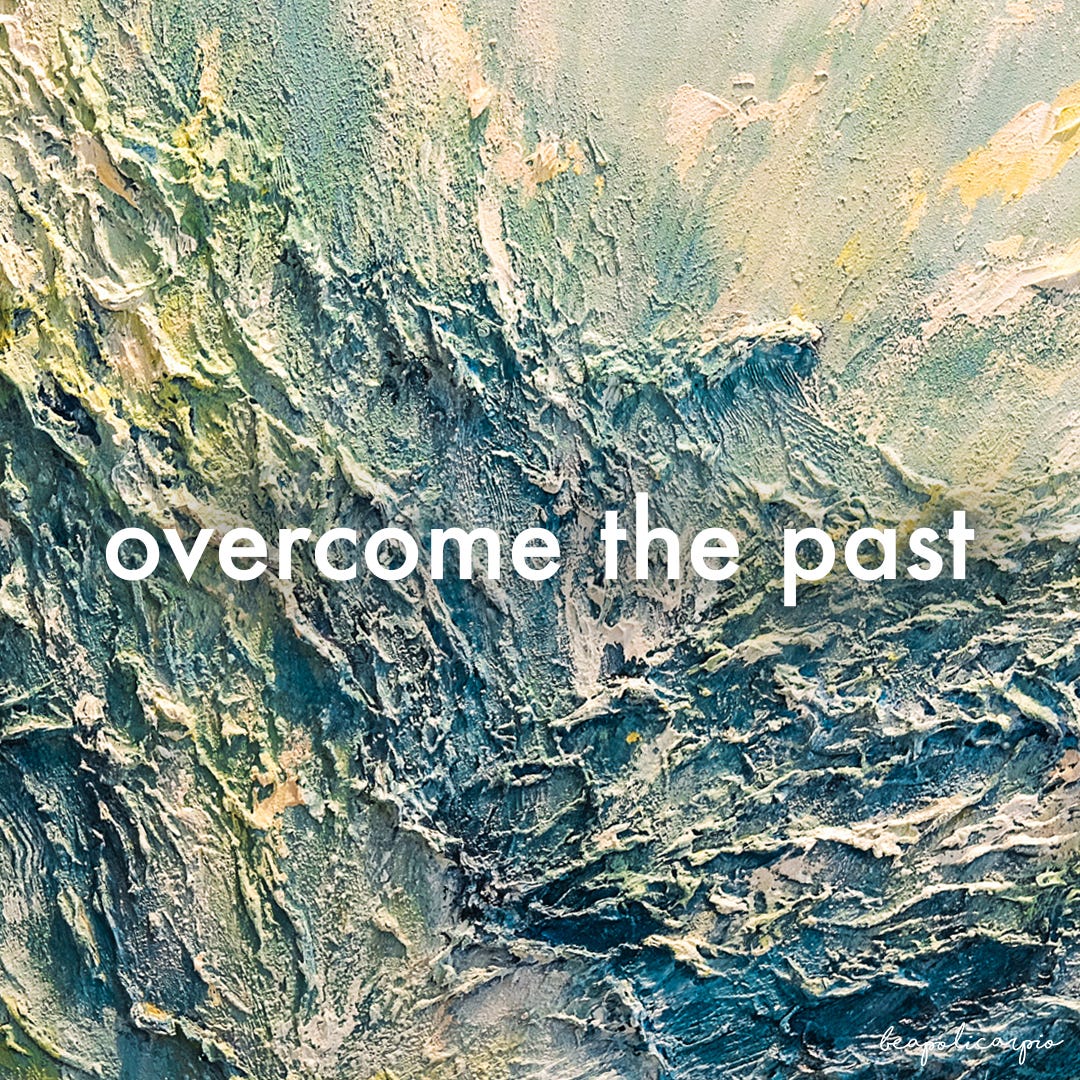 PPS. Here's where I drop my recos for the week!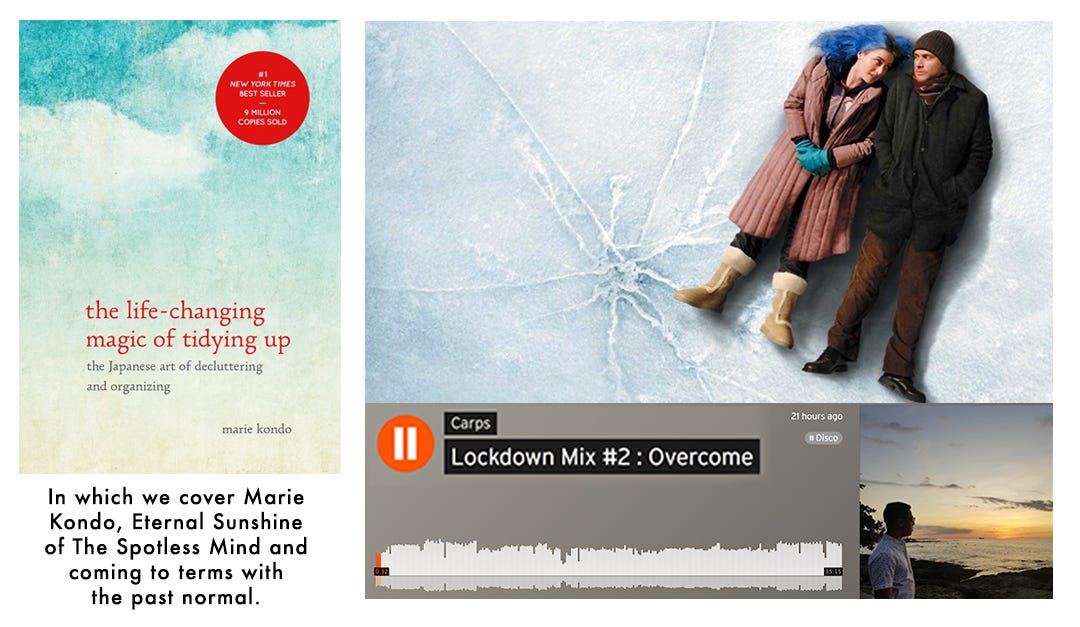 READ: The Life-Changing Magic of Tidying Up by Marie Kondo - Don't underestimate this book, it's so much more than just about decluttering your space, it's a light yet thoughtful read about simplifying your life and discarding what no longer matters.
WATCH: Eternal Sunshine of The Spotless Mind - This classic is my rock bottom staple, impeccably acted by the Jim Carrey & Kate Winslet.
LISTEN: Overcome, A Lockdown Mix by my brother, DJ POLIZEI! - I'm no DJ so from now on I'm leaving it to the professionals. Very proud of my bro for putting his art out there (and recently getting accepted to law school !!!) This 30-min disco mix inspired this week's theme and includes a powerful message by Martin Luther King.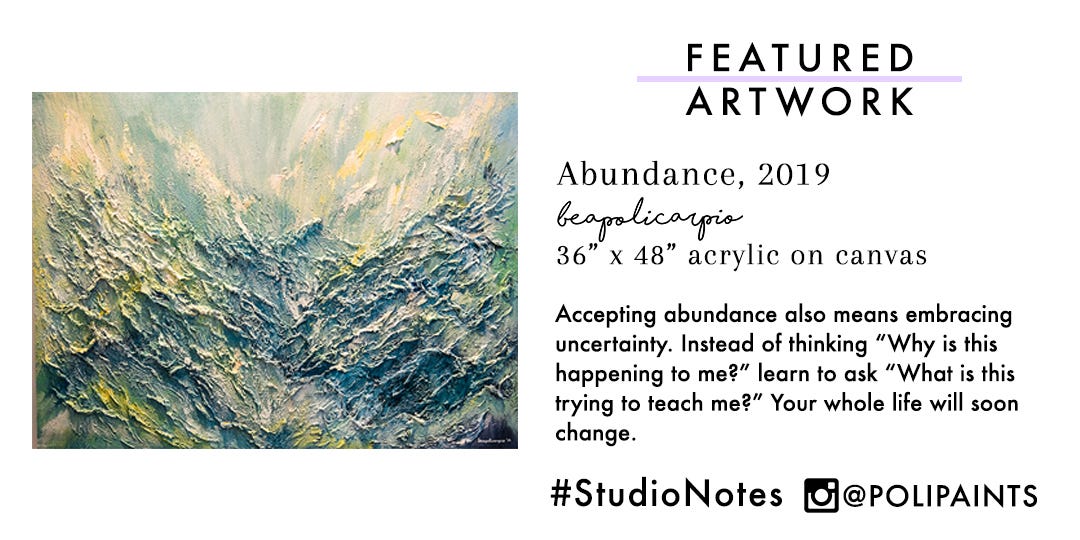 Thank you for your time. Whether you loved, hated, or felt nothing towards this issue of #StudioNotes, I want your feedback! Reach out via email, IG DMs or Twitter. Stay healthy and with any luck I'll see you again next Friday! xx
Read my previous letter, Vol. 8 - Seek Truth.
Binge read from the top with Vol. 1 - Start With Why.
---
The artist, elsewhere:
@BEAPOLICARPIO | @POLIPAINTS | Blog | Twitter | Facebook | Tiktok | Art Tiktok