Studio Notes Vol. 6 - Thank U, Next
Gratitude for "what is" opens us up to that "next"

Dear Friend,
This week I celebrated the two-year mark since my trainwreck of a breakup ! ! !

I look back not to open old wounds, but because I actually credit a lot of personal growth with my experience of moving on from heartbreak. That long-term relationship was so woven into the fabric of my old life—from my social circles to the work I was doing then—that losing that thread of connection just pulled the whole rug from underneath me. It was definitely a dark night of the soul, which felt more like a dark year (and a half).

But with the distance of time and space, I can clearly see how I was equally accountable for that whole mess. I was a shitty person in the months that we were slow dancing in a burning room, and continued to be the absolute worst version of myself months after the fact. We've all experienced a degree of this madness but boy, did I make a lot of stupid mistakes in the name of grief. The truth is, hurt people hurt people. Throughout this my mind obsessed over a loop of remorse, regret, and a whole party of self-flagellating emotions. Even after the storm passed, the hardest person to forgive was really...myself.

On a lighter note, if you've been following my Instagram you'd maybe know that I'm an Ariana Grande stan! I got really into her music during this phase and felt such a personal connection with her as an artist and a human being. But apart from her phenomenal talents as a performing artist, what I admire most about her is her resilience. She's my role model for turning real obstacles into creative opportunities for healing and growth.

On May 22, 2017, a suicide bomber attacked her Manchester Arena concert and wounded over a hundred and killed 22 young fans. Paralyzed by trauma, she could've never performed for a large audience again and nobody would blame her. Instead, she pushed through with One Love Manchester, a fundraising concert for the benefit of the victims less than two weeks after the attack.

A year later, she released her Grammy award-winning album Sweetener which gave us some of her most vulnerable and musically mastered pop songs, the themes of which revolve around heavy subjects of anxiety and grief. Just weeks after this career high, her long-time ex, rapper Mac Miller died of overdose. This sent her right back to the depths and she called off her short-lived engagement with her then-fiance, Pete Davidson. A month after this rollercoaster, she then came through with a back-to-back record-breaking and chart-topping single/album, Thank U, Next. And the rest is history.

If you're still here, thanks for letting me geek out real quick like some Ari Wiki page. What her story taught me though is while you don't always get to choose what happens to you, you can always choose what to create out of it. In other words, "It mattered not what we expected from life, but rather, what life expected of us." (Viktor Frankl)

The whole spirit of thank u, next embraces the fact that there's a fundamental difference between the outer goals we have for ourselves and the inner goals the Higher Power has for us. The best we can do is to trust in this divine plan, and find it in ourselves to even give thanks for the struggle because from this comes real, unshakeable strength. Gratitude for "what is" ultimately opens us up to that "next"—in whatever form it may come.

Going back to my own story, what put an end to that mental loop was the antidote of gratitude + creativity. I am now able to thank my past self for leading me up to this moment, and then leave it all behind. It's the reason I have the words amor fati tattooed on my rib—in Latin it means "love of fate: that one wants nothing to be other than it is, not in the future, not in the past, not in all eternity. Not merely to endure that which happens of necessity, but to love it." (Friedrich Nietzsche)

So dear friend, in the midst of this global pandemic I'm challenging you to do something highly unnatural: to surrender each day to amor fati. To be clear this doesn't mean to literally LOVE the loss of lives and the horrors unfolding this 2020. Nobody wants this. But what we can do is forgive the situation for what it is, and in a very real and tangible way, create that "next" for ourselves and possibly for others—something that will bring forth from the seeds of pain and uncertainty the fruits of wisdom, growth, and healing.

That's all I've been trying to do with these #StudioNotes, and I thank you all for giving me the absolute honor of serving you through words. Starting this project has been my north star during these strange times and has given my weeks in quarantine infinitely more meaning and structure—all thanks to you! I pray my letters continue to inspire you to take the leap from dreaming to creating, from hurting to healing, from hiding to sharing. Remember, your own art is the highest form of hope.

With breakfast at Tiffany's and bottles of bubbles,

B
PS. Feel free to share the artwork below & tag @polipaints!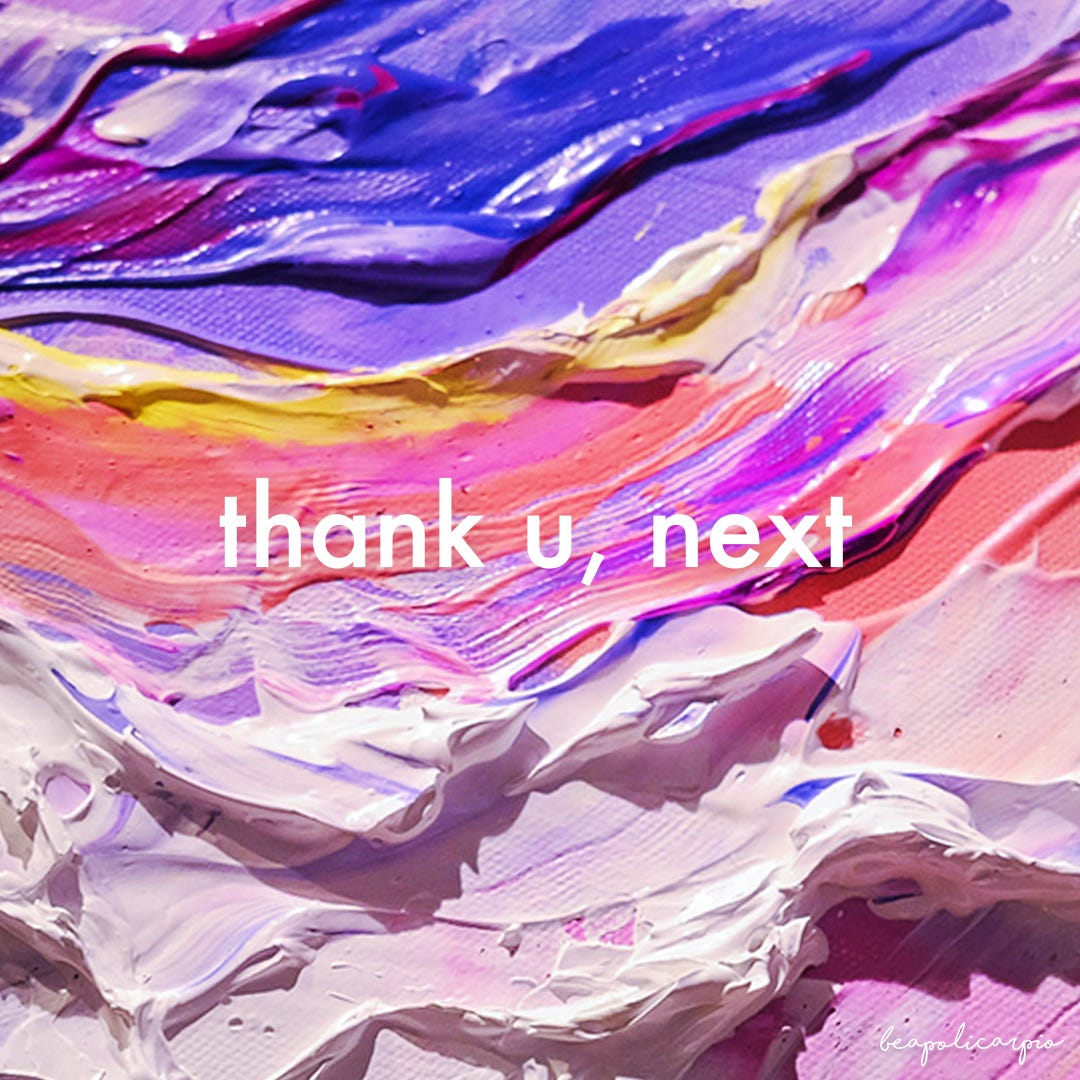 PPS. Here's where I drop my recos for the week!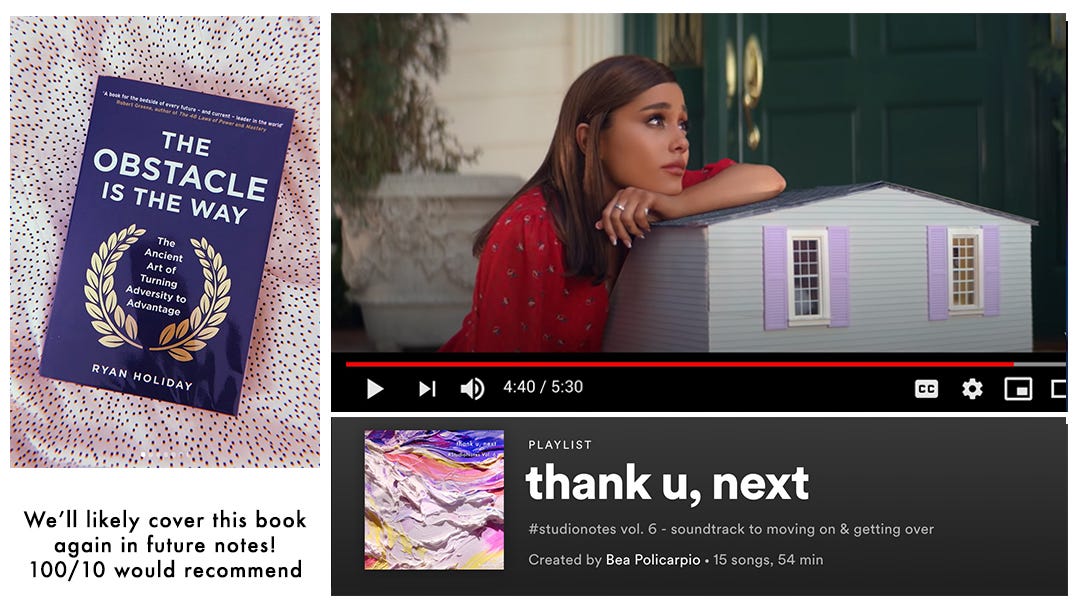 READ: The Obstacle Is The Way by Ryan Holiday - 100/10
The book that introduced me to Stoic philosophy and amor fati. Beware: it's so life-changing you'll probably want to tattoo Ryan's words on yourself after.

WATCH: thank u, next by Ariana Grande - 100/10
Much needed comic relief and an outstanding example of nostalgia marketing. Ari & her team incorporated scenes from iconic rom-com films, brilliantly borrowing the power of each film's pop culture relevance to the upper age bracket Millennials all the way down to the Gen Z bracket which makes up Ari's target audience, thus resulting in the single's meteoric rise on every chart possible. (Yuh, I'm a marketing geek and it shows.)

LISTEN: thank u, next a Spotify playlist by yours truly
Compiled Ari must-listens plus some post-breakup anthems. Nuff said. Bye.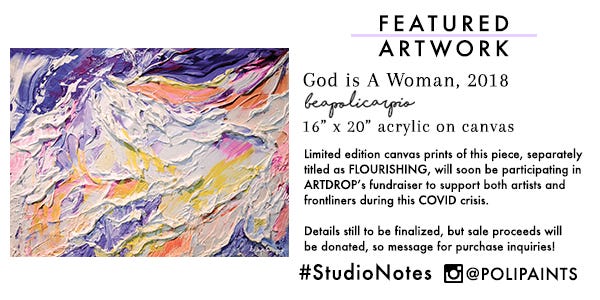 PPPS. If the spirit moves ya, check out my Artdrop page here!

Thank you for your time. Whether you loved, hated, or felt nothing towards this issue of #StudioNotes, I want your feedback! Reach out via email, IG DMs or Twitter. Stay healthy and with any luck I'll see you again next Friday! xx
Read my next letter, Vol. 7 - Respect Reality.
Read my previous letter, Vol. 5 - Suspend Your Beliefs.
Binge read from the top with Vol. 1 - Start With Why.
---
The artist, elsewhere:
@BEAPOLICARPIO | @POLIPAINTS | Blog | Twitter | Facebook | Tiktok | Art Tiktok