Studio Notes Vol. 7 - Respect Reality
This week I found myself wrestling with my ego.

Dear Friend,
This week I found myself wrestling with my ego.

This is not news, however. I've been at battle with my lower self my entire life just like everyone else. Using Stoic writer Ryan Holiday's definition as "an unhealthy belief in one's own importance," ego is that living beast of burden each of us must learn to master else it masters us.

I write you today not because I've conquered and lived to tell the tale—far from it. Rather, in this fragile time of quarantine many of us are experiencing an unprecedented amount of unstructured time which can be dangerous if we let ourselves go idle. With chronic boredom, outer panic, plus the escapism of the digital world, it's the perfect time for ego to breed both insecurity and entitlement.

What I've learned about ego is it can change form so fluidly depending on the season until I recognize it again for what it is. Lately my ego—let's call her Mystique—has taken on the shape of imposter syndrome. In Marvel's X-Men series, Mystique is a shape-shifting mutant able to disguise herself to her advantage in any situation. In recent films, we're given a glimpse into her sad backstory as she grows up to be ever more cunning and manipulative.

Ego, when left unchecked, is the same. The thing is, it's always gonna be there. Half the battle is accepting that it's impossible to completely rid of our own worst enemy. In my case, Mystique's got two usual tricks: On one ear she assures the teenage narcissist me of how special I am. On the other, she's the impossible-to-please teacher who demeans any progress I've made. For Mystique, no piece I ever paint or write ever feels finished or God forbid, good enough. They're two sides of the same coin slotted into my mental jukebox, but this week's LSS was more of the latter.

That's what ego does best—it brings your head to the sky with empty airs of delusion, or anchors your heart with heavy despair until you're buried deep in the sea. Both lies are equally dangerous because they are divorced from the solid ground of reality and keep you from actually moving forward. Thankfully, I am used to exorcising Mystique every morning by ink and paper and I'm so glad many of you have reported starting quarantine diaries too! Journaling allows me to turn down the volume of mental noise and tune into the music of the infinite.

Speaking of music, this brings me to our featured hero: John-fucking-Mayer! If you lived through the 2000's, chances are you too have fallen in love at some point with his sexy discography of global hits like "Waiting On the World to Change," "Gravity," "Slow Dancing in A Burning Room," and the all-time soft boi anthem, "Your Body Is A Wonderland." Those are his most popular titles, but over the years he's given us numerous heartfelt ballads, easygoing gems, and edgy tracks—way too many to mention. I think what makes his music so great is how his lyrics & singing are full of soul. That, and he can shred a guitar solo like nobody's business.

What I admire most about him is how prolific and profound he is as an artist. He carved out a niche in a crowded pop scene while earning critics' respect for blending elements of blues, rock and folk. He rose to global fame between 2001-2009 on a wave of his second through fourth studio albums. Each of these records were favorably received by the public, his songs earning a special place in our individual life soundtracks. As a result, his music is often common ground we can mostly agree on. He's the kind of artist you could play at an intimate dinner, at a high school reunion, or by yourself in your room, and it would still hit right in the feels. Above all, he manages to give us a glimpse into a different chapter of his life album after album. He's able to take the intensely personal and make it universal—that's art. Real recognizes real.

I started listening to him as early as grade school, following his art intimately through his lyrics but observing his public life from a distance through his media presence. While nobody can attest his contributions as a musician, as a person he's quite the character to say the least—it's been said that "John the singer-songwriter and John the man in the town sometimes seem to be disconnected, like they don't even belong in the same body."

Like a cliche, John's success also grew his monstrous ego. He became a tabloid magnet for talking about his high profile relationships, tweeting questionable statements, and more. In 2010, after controversial interviews in which he was quoted with racist and misogynist comments, he completely withdrew from the spotlight and moved to a quieter life in Montana.

The years after were painful. "The bigger the ego, the harder the fall." (Ryan Holiday) John went through periods of isolation, literally lost his voice for a while due to health problems, and continued to fail at relationships. Here was this golden boy who could make the world sing with him, yet because of ego, still ran into what he describes as "an intellectual crash."

Finally breaking his silence in 2015, he opens up about being a recovering ego addict, and explains how he abused the ability to express, losing his art in the process. "Once you're playing into the role, then you lose. First you're not playing music anymore, then you're not feeling anything honestly, and then you're not saying anything, honestly." In the same interview, John credits his sobering return to reality with being able to detach his identity from the external attention and commercial success he was getting.

Since then, he's been able to recover from personal rock bottom and still continues to put out new music and other creative projects to this day. I would argue that his songs now are just as good as the ones he wrote off the high of ego. In the context of 2020, what we can learn from John's story is cultivating detachment (from our idealized selves) and compassion (for being the fallible humans we are.)

Most of us have gotten our egos bruised by the cancellation of, well, most of this year's plans. A lot of us have our identities tied to the outside world—in our jobs, relationships, and in who we are able to be around other people. Now that we've been stripped of all that, the time indoors is forcing us to take a hard look at who we are without our external functions. Aside from the obvious economic impact, it's the existential crisis—the "intellectual crash" John described—that we all must face in our personal lives.

Thanks to the Internet it's easy to live in denial of the new normal, get lost in distraction, waste time in comparison, or give in to pure helplessness. But instead of letting ourselves get swept away or dragged down by ego, I really believe this is a great opportunity for us to turn inward and get curious about our own potential. In the privacy of our homes, we've begun to experiment with creativity again—in the kitchen, in our workouts, in our hobbies. Don't ignore that urge. Know that every time you say yes to the creative act in the face of not-good-enough, you actively rebel against the tyranny of ego.

I know that every time I stand in front of a blank canvas, I face the possibility that I might fail to do justice to the image in my head. Mystique and her hundred faces remains an intimate companion. But it's also awareness of her that keeps me humble and hungry, forever a student. It's the great paradox each must face: only in accepting our nature as limited beings are we able to yield to the force of expression that comes from an infinite source. Because accepting the idea of abundance also means embracing uncertainty.

Art, in John's words, is a way of creating a world you can believe in. The question is, will our art be honest? Will our art have a healthy respect for reality? Or will we use it to protect the fragile ego?

The choice is yours, my friend.

With gravity, clarity, and love on the weekend—

B
PS. Feel free to share the artwork below & tag @polipaints!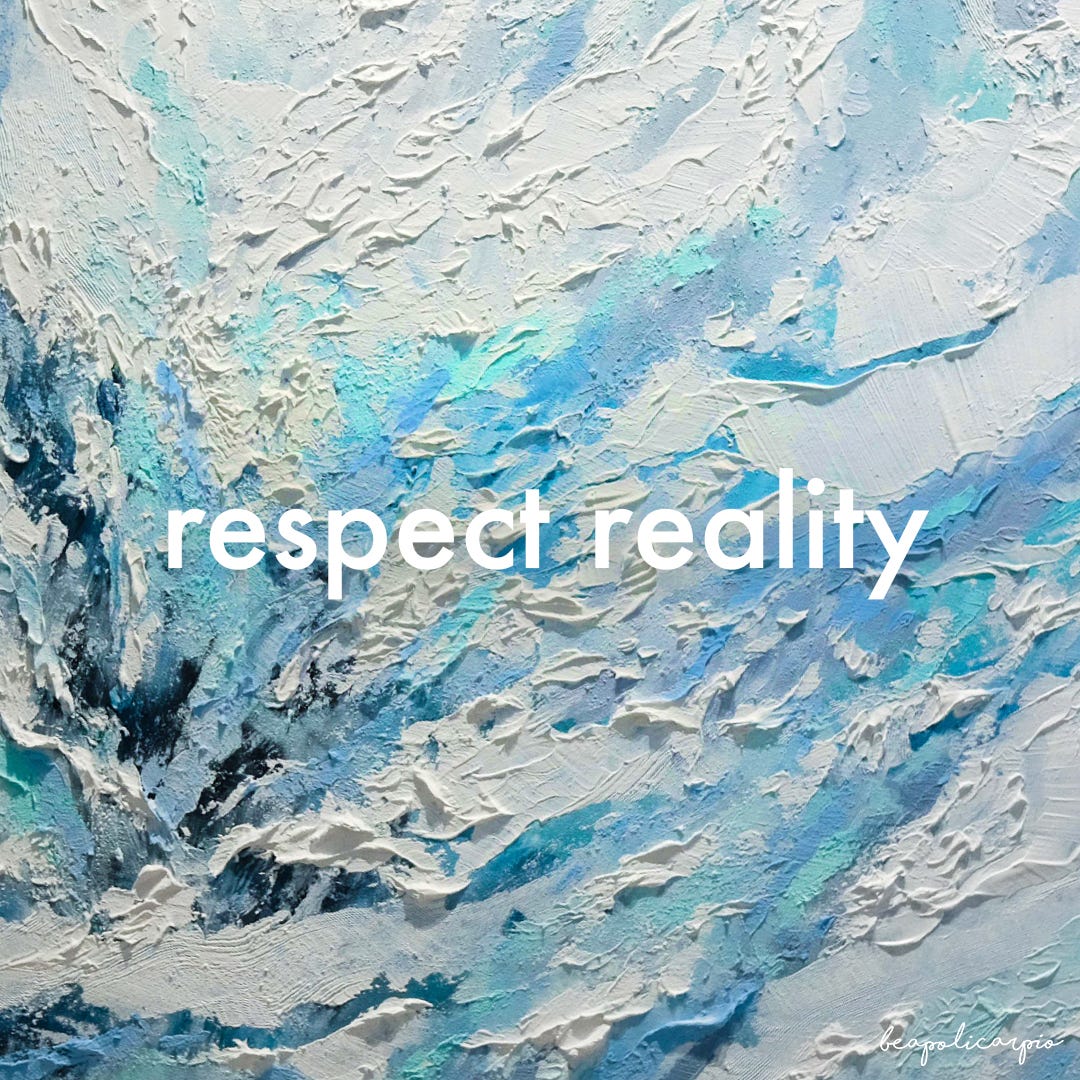 PPS. Here's where I drop my recos for the week!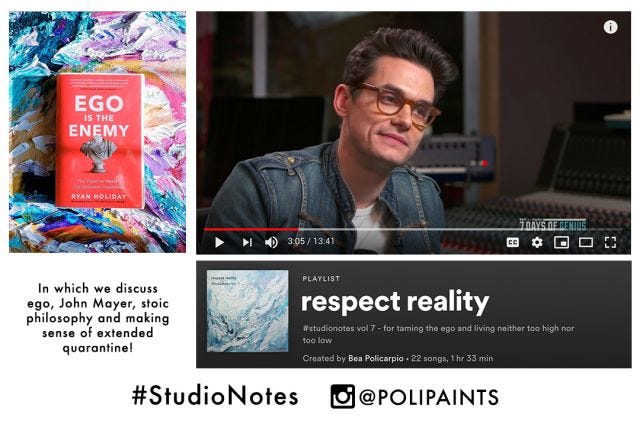 READ: Ego Is The Enemy by Ryan Holiday
The first time I read this, I deeply resisted what it had to say particularly because I knew it was what I needed to hear. I studied it again cover to cover this week for you guys and it's still a 10, though a painful one. Existential crises may or may not have occurred.

WATCH: John Mayer, Recovered Ego Addict: An Interview
I like this interview because of how clearly uncomfortable John's body language is as admits to his own bullshit. Here we see a fallen man make sense of his mistakes and pick himself back up for the better.

LISTEN: respect reality, a Spotify playlist by yours truly
Compiled my fave John Mayer tracks laced with songs to push through n0t-g0od-en0ugh with! If you're a fellow fan, please indulge me by sliding into my DMs with your top 3 Mayer tracks and why!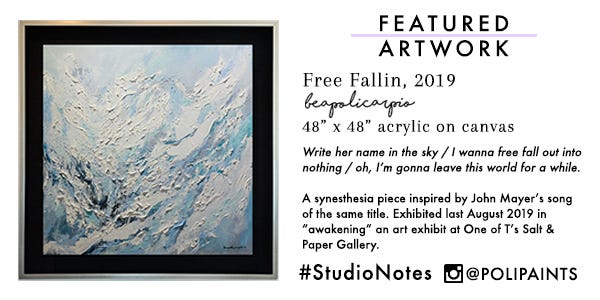 Thank you for your time. Whether you loved, hated, or felt nothing towards this issue of #StudioNotes, I want your feedback! Reach out via email, IG DMs, or Twitter. Stay healthy and with any luck I'll see you again next Friday! xx
Read my next letter, Vol. 8 - Seek Truth.
Read my previous letter, Vol. 6 - Thank U, Next.
Binge read from the top with Vol. 1 - Start With Why.
---
The artist, elsewhere:
@BEAPOLICARPIO | @POLIPAINTS | Blog | Twitter | Facebook | Tiktok | Art Tiktok