Studio Notes Vol. 3 - Own Your Story
I found myself in between chapters.

Dear Friend,
This week in quarantine I found myself in between chapters.

My art is transitioning into a new season but also quite literally, I wrote myself into the last page of my current journal. I've been writing privately—3 pages of freehand every morning—since 2018. It's become such an essential part of my routine that failing to reach the page almost always ominously leads to some weird mood or negative interaction later that day.

While the practice is near-sacred to me, the actual written pages are not. They're usually full of my own bullshit—a mixed bag of exciting happenings, mundane stories, to-do lists, gratitude lists, random ideas, and finally, my whiny obsessive thoughts, that litany of petty complaints bouncing around my brain. My point is, writing for yourself doesn't have to be in any way "good" (i.e. publishable for an audience) or even structurally coherent, it just has to be yours.

I owe this invaluable tool to one of my favorite authors, Julia Cameron of The Artist's Way: A Spiritual Path to Higher Creativity. I loved this 12-week course book so much that right after, I bought copies to give as gifts to friends. Of the Morning Pages Julia writes, "Think of it as wiping the mirror. Each day's morning pages take a swipe at the blur you have kept between you and your real self." By validating both your fears and joys, you practice owning your story. "You need to claim the events of your life to make yourself yours." (Anne-Wilson Schaef) When you claim your mess, you give it a chance to evolve into your MESSage.

I share this because in the creative life, self-doubt will be your most intimate companion. Everyone's story is different but in my experience the pattern goes like this: It starts with giving yourself permission to dream again. Next, in paying more attention to your life you'll notice clues or even doors opening to support this dream. Then, you'll feel the desire to try something bold and new—to cover that song you love, sign up for dance class, or post about a passion project. So far, so good!

But somewhere in crossing the gap between intention and action, you'll eventually run into a block. Even with all the time, space, and tools, you'll suddenly find excuses to ignore the creative urge. A small but persistent voice nags us: What if I fail and look stupid? Who am I to be creative? I'll never be good enough anyway so why bother? What will people think?

This is normal. But also, that voice is not you. It's your ego rising to protect you from possible annihilation, protesting: Woah buddy sit down, we don't do this kind of thing. Unless you wake up from this mental loop, over time you will mistake this constant companion as you, quietly give up the dream and shrink your life in ways you don't notice.

That's where journaling comes in: it allows you to catch and kill that fake voice and find your own. Pinning your anxieties on paper works like exorcism by ink. After I've let the monsters have their moment, they pretty much leave me alone to get on with my day. Like the villain with a sad backstory, the same pain body that exists in each of us just wants to be heard. By acknowledging the block, real or imagined, it slowly dissolves itself. As you build the habit, you'll realize it's hard to complain about something day after day without doing something about it. Now you consider, maybe I'm not terrible / lazy / stupid, maybe I'm just scared. And that's okay.

What you're actually doing is nurturing a sense of safety within yourself. Because pursuing creativity and happiness requires a leap of faith, you will hesitate if you don't intimately know and trust yourself.

My challenge for you is to keep a quarantine diary. Just fill up 3 crappy pages a day that nobody has to read except you. If you don't vibe with the written word, your journal can still be anything—a photo diary, a gratitude bullet journal, a secret Instagram vlog series, a scrapbook of drawings, playlists—whatever best captures your daily moods and thoughts.

One day, you'll be glad you recorded how your days felt and looked like during this crazy period in history. Most importantly, by setting aside time everyday to own your story in all its gore and glory, you're beginning the exciting adventure of clarifying your vision, discovering your gifts, and so much more.

With the light and darkness in me, I honor the light and darkness in you—

B
PS. Feel free to share the artwork below & tag @polipaints!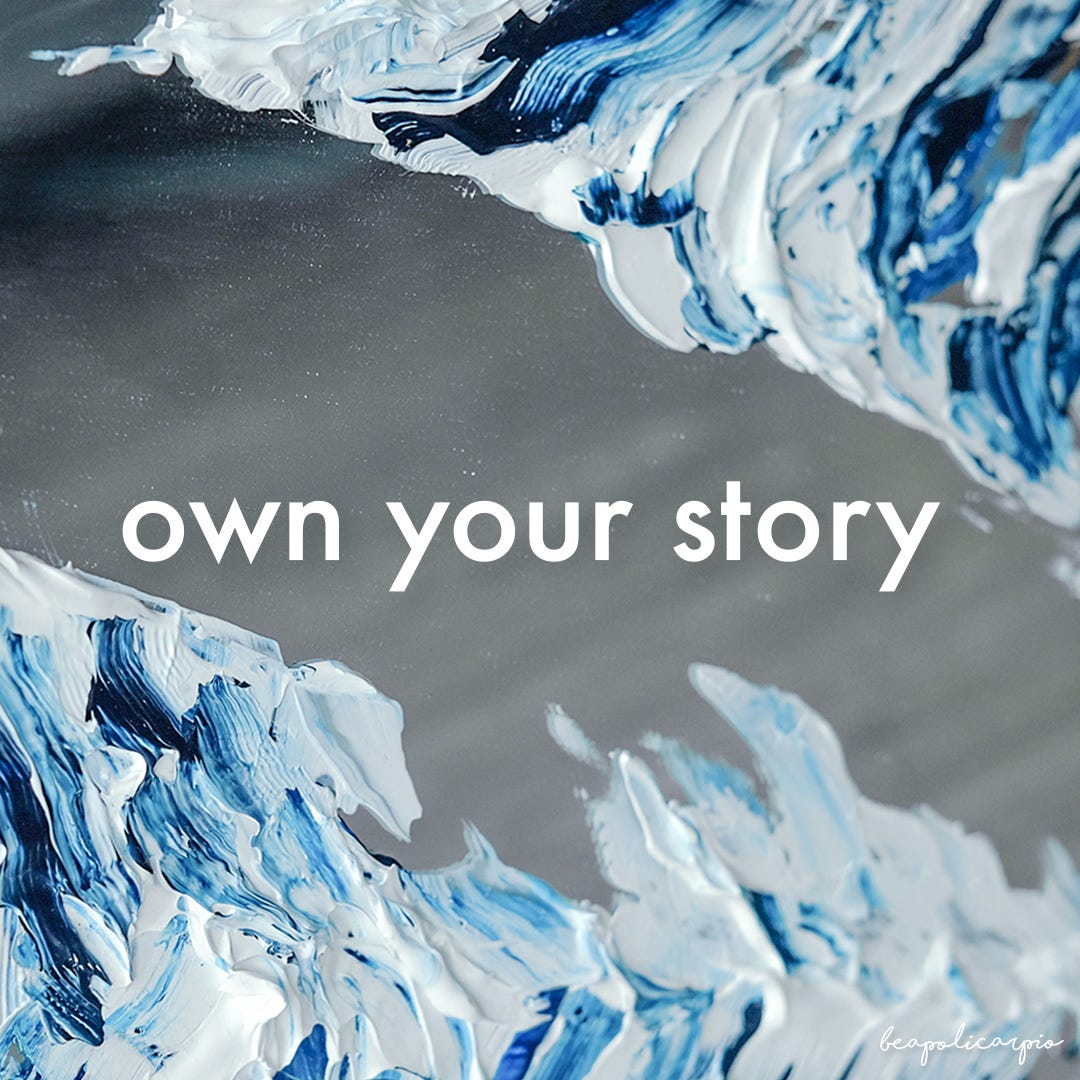 PPS. At this point I'd love to know: Do you have questions or topics you'd want me to cover? Where are you in your journey and how can I help in any shape or form? Let me know!

PPPS. This is where I drop my recos for the week!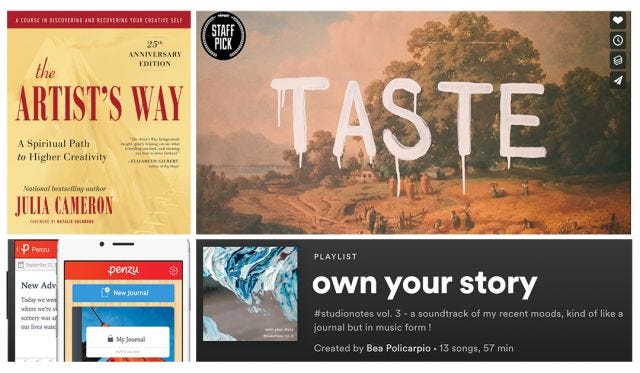 READ: The Artists Way by Julia Cameron
WATCH: THE GAP by Ira Glass - a 2-min art film about closing the creative gap - 10/10 love this
LISTEN: own your story, a Spotify playlist of my current moods- a sounds diary!
WRITE: Penzu App and Online Journal - A free app to kickstart your journaling! I use this when my notebook is out of reach.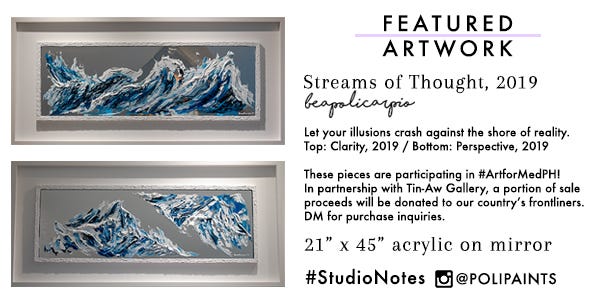 Thank you for your time. Whether you loved, hated, or felt nothing towards this issue of #StudioNotes, I want your feedback! Reach out via email, IG DMs or Twitter. Stay healthy and with any luck I'll see you again next Friday! xx
Read my next letter, Vol. 4 - Reverse Your Desire.
Read my previous letter, Vol. 2 - Pay Attention.
Binge read from the top with Vol. 1 - Start With Why.
---
The artist, elsewhere:
@BEAPOLICARPIO | @POLIPAINTS | Blog | Twitter | Facebook | Tiktok | Art Tiktok