Studio Notes Vol. 12 - Wake Up!
I couldn't get out of bed in the morning.

Dear Friend,
There will always be events which halve our lives into Before and After.
It's clear that 2020 is one of these dividing—and defining—events for all of us. Isn't it surreal? How the quarantine days look mostly the same, and yet we find our way of life irreversibly changed? In just one summer, we've become strangers to the manic pace humanity has collectively maintained in the past. Systems we passively accepted before have been called into question. With life indefinitely on hold, I feel like I've been on a treadmill this whole time—logging in invisible miles, yet also stuck running in place. I blink and it's June. The seasons did change. We've changed.
At the start of ECQ, I made an ambitious bucket list of goals I've always been meaning to accomplish but mysteriously never got around to doing. Now I had "no excuse" to tie up loose ends like "Marie Kondo your room" and "Clear out your camera roll." Now I had time for meaningful projects like "Start a newsletter," or "Start learning dance choreography." While slowly checking these off felt great, I would equally feel weirdly anxious seeing the items disappear one by one. These were big theoretical life tasks that I've let hang over my head for the longest time—to actually get over them meant I'd have to finally move on. Now I find myself asking, what's next? I honestly don't know. I've never been here before. Standing at the edge of this new normal, we've all never been here before.
All this uncertainty makes me want to just stay in bed. What does it matter if I get up at 8AM or if I get up past noon if I'm not sure what the future holds? Even prior lockdown, facing the day has always been my greatest struggle. So simple yet so hard to do, to conquer what St. Josemaria Escriva calls the Heroic Minute—the act of jumping out of your warm bed and into the cold room. I'm a serial snoozer, but I know I've got to change this. Because the uncomfortable truth is that my life has a time limit, even if this quarantine season feels like an eternity. I don't know when my expiry date will come—it could be tomorrow or 50 years from now, but ignoring my alarm won't add a single minute to the time I've been given.
On waking up, Jesuit priest—and my favorite author!—Anthony de Mello writes: "Spirituality means waking up. Most people, even though they don't know it, are asleep. They're born asleep, they live asleep, they marry in their sleep, they breed children in their sleep, they die in their sleep without ever waking up. They never understand the loveliness and the beauty of this thing we call human existence. The first thing I want you to understand, if you really want to wake up, is that you don't want to wake up. The first step is to be honest enough to admit to yourself that you don't like it. You don't want to be happy. It's not that we fear the unknown. You cannot fear something that you do not know. Nobody is afraid of the unknown. What you really fear is the loss of the known."
I realized it's this vague fear which has been keeping me glued to my bed. In Studio Notes Vol 4: Reverse Your Desire, I introduced to you The Tools by Phil Stutz & Barry Michels. This book has improved my quality of life time and again by providing practical tools on how to overcome real fears and blocks. The last tool, and possibly the most important one, is what they nicknamed Jeopardy, the tool to summon the will to live on command. It looks like this: 
"See yourself lying on your deathbed. Having run out of time, this older self screams at you not to waste the present moment. You feel a deep, hidden fear that you've been squandering your life. This creates an urgent desire to act in this moment."
I think Jeopardy is just about practicing Awareness. To wake up—both literally, and spiritually. It's allowing your illusions to crash into reality. We're alive for such a brief moment in time. Why waste it judging yourself and also, worrying about being judged by others? Living in awareness means to to stop apologizing for who you are. It's to accept what you've gone through, but refusing to let it limit who you still can become.
Awareness is being able to look at your own suffering and see the unconsciousness there. It's seeing where you've been wrong, and taking none of it personally. It's to consider the possibility of: "If I'm suffering, maybe I'm still half asleep—or knocked out cold, even. Maybe I've been wrong about this my whole life. And that's okay. At least now, I'm aware." The mystics tell us all suffering is a form of unconsciousness. So why weep for sins you committed in your sleep?
There will always be events which halve our lives into Before and After.
It is these events which jolt us out of slumber. It's not about being "woke." It's simply about, waking up—being led to your current frame of mind at this specific point in time. Because when you wake up to life, everything starts to look like art. Life becomes art. The problems still exist, and yes, the injustices still matter—but when you're listening to the rhythm of Awareness, these things become mere noise that fade into the music of the infinite.
We were never of this world, but I hope you let yourself dance while we're still here. Perhaps this life is all but a dream, but as Dumbledore would say—why on earth would that mean that it's not real?
I hope you've been well.
Love, B
PS. Feel free to repost this art and tag polipaints!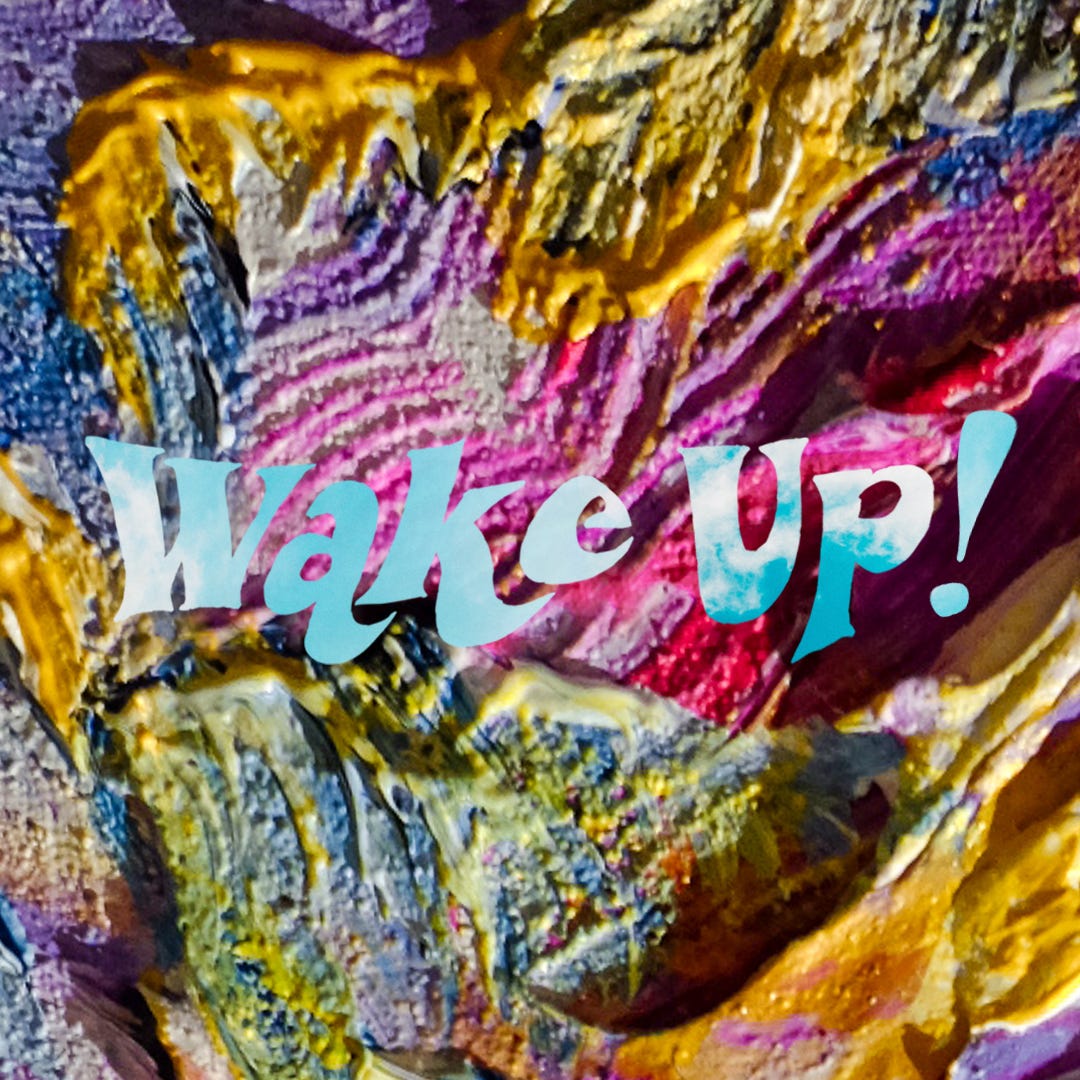 PPS. Here's where I drop my recos for the week!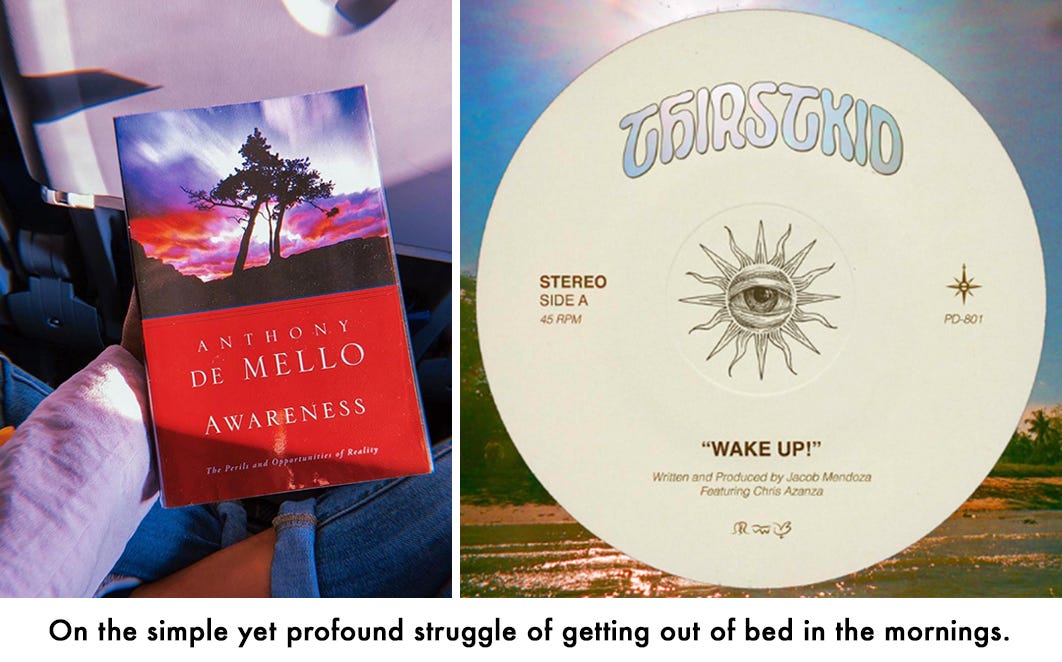 READ: Anthony de Mello's Awareness: The Perils & Opportunities of Reality - Hands down the most important book I've ever read in my life. I share my favorite passages here.
LISTEN: Wake Up! - A fresh new track just dropped last Thursday by my good friend ThirstKid, featuring the famous Ateneo bell and a groovy beat! Support local music while you're at it—check out his EPs on Spotify for solid bangers.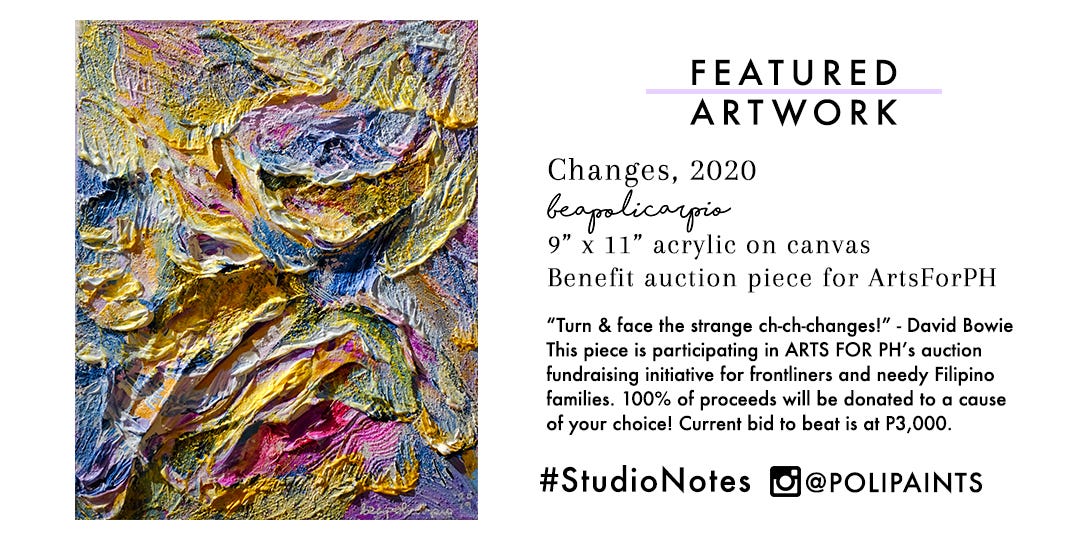 If the spirit moves ya, place your bid in the art auction here!
Thank you for your time. Whether you loved, hated, or felt nothing towards this issue of Studio Notes I want your feedback. Reach out via email, IG DMs or Twitter @beapolicarpio.
Read my previous letter, Vol. 11 - Mahal Kita.