Mahal Kita
An open letter to the Filipino artist.

Dear Filipino Artist,
I was afraid to write this letter.
But I knew in my heart of hearts that this was something I could give. To deny that would be a disservice to us both, so I'll try my best.
So I've called you an Artist. Please don't get hung up on the label—I firmly believe we are all born artists regardless of profession, age, or status. It's true that not everyone is artistically inclined, but by human nature each person is creative. You may be asleep to this fact—but you are always co-creating reality. Together, this culture is our art and this country, our canvas.
It's been a long year. We find ourselves battling not only a pandemic, but also the blatant face of injustice. Today, we celebrate our nation's independence and yet it feels inauthentic. How can we truthfully claim freedom when the past months have been a mockery of our democracy?
I won't pretend to have a straightforward answer, because I have none. It is absurd. Nor will I claim to ever fully understand the plight of the masses who continue to suffer and perish at the hands of this administration's incompetence and greed. I write from a place of privilege—a fact that I cannot change with any amount of survivor guilt or shame. And chances are, if you are reading this, you too have been granted privileges that many Filipinos can only dream of. Though as human beings we are no different from the voiceless, we are worlds away separated by access to resources which make life worth living. We are the lucky ones.
To be honest, I was afraid to write because of this luck. Who am I to have been spared from the desolation of poverty? Who am I to speak about the unspeakable? I cannot write about what I do not know. I can only imagine.
What I do know is, at the core of imagination lives only two things—fear and love. Terror and empathy. Everyday, we get to choose which one makes its way from our consciousness into reality. It is only by creating a new world within each of us can we ever hope to see lasting change.
As an artist, I hope you choose to wield your creativity to bring honor to the name of the Filipino people. We speak with pride of our resilience. May I remind you that practicing your art is the greatest evidence of that. To create is to prove time and again that you are limitless, regardless of circumstance. Nobody knows the treasures that live within you, and nobody will know unless you find the courage to speak it into existence. Make no mistake: Your individual talents are your gifts. To discover these gifts is your duty. To share them with us is your gift back to humanity.
Gising na. It is a tragedy to die with your song left unsung. Please, in all things: Just do your best. If you do your best—no more, no less—you will live with dignity that no system can rob you of. Doing your best is equal to living in love instead of fear. It is being able to look in the mirror and honestly say, mahal kita. It is being able to honestly tell others, mahal kita. And the beauty is, when you know you are doing your best, you will lose the nerve to judge anyone else. Perhaps they are also just trying to do their best. We cannot speak for others' intentions, but we can always ask ourselves: So is this it? Is this the best I can do? And therein lies all your freedom.
Collectively, we may not be able to speak for officials who claim to serve us with their damned best. The lack of results and humane compassion is too glaring to ignore. And it is not for a lack of patience or resources on our part—nearly a hundred days in quarantine and 275B of our taxes, in fact. Let it be clear: this administration has failed its people miserably. It is no longer a question of mere incompetence, but they have gone the extra mile to show us that they do not care about our human rights. Nakakabastos.
It breaks my heart that we are now being forced to fight for our right to freedom of speech and expression. Now that is the true definition of terrorism—that our leaders have the audacity to strike this final betrayal when we are still reeling from the curve they've failed to flatten. As we approach voting registration season, may we let go of the urge to engage in in-fighting amongst ourselves. Let us remember who the real enemy is. Let us keep these stark realities at the front and center of our consciousness. And may we never forget.
It is my highest dream to see the Philippines reverse this ancient tide of inferiority and struggle. And while I am equally prepared to accept that I may never see the narrative change in my lifetime, this is in no way going to stop me from planting as many seeds of greatness as I can for future generations of Filipino artists.
It is the least I can do, for all that I have been given.
Mahal kita,
Bea Policarpio
PS. Feel free to repost the art below. Tag @ polipaints and better yet, use it to spread awareness about hashtag Junk Terror Bill & Mass Testing Now PH.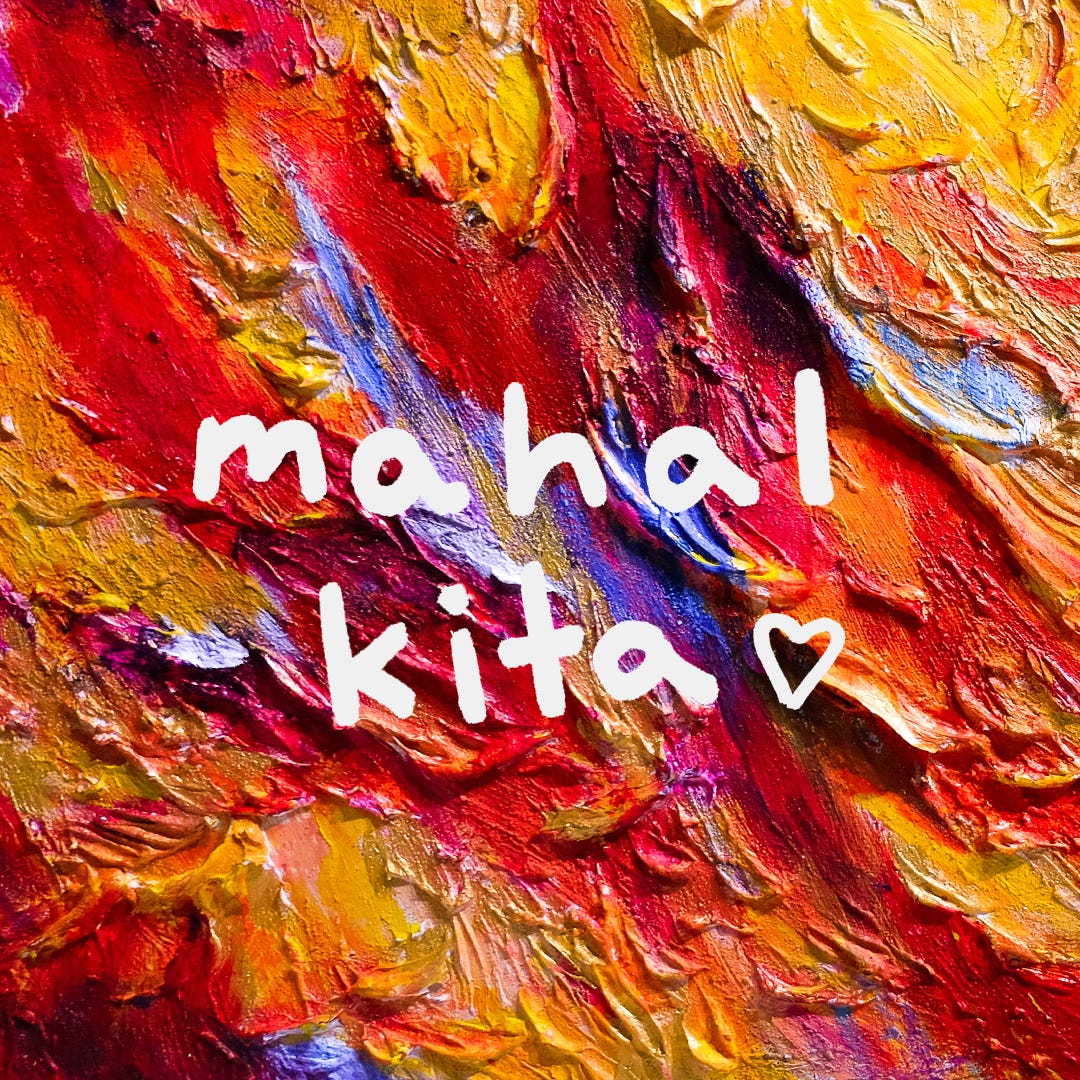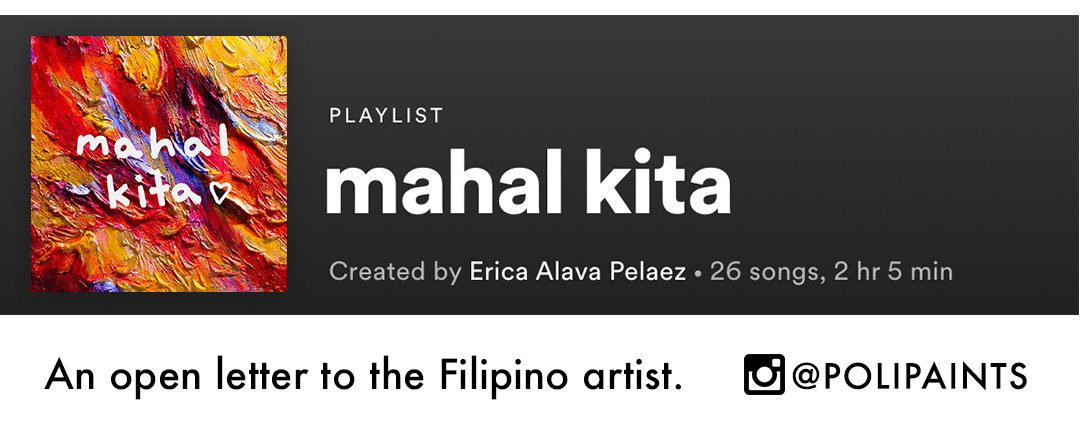 LISTEN:Mahal Kita, an optimistic & healing playlist by my good friend, DJ ericaPLZ.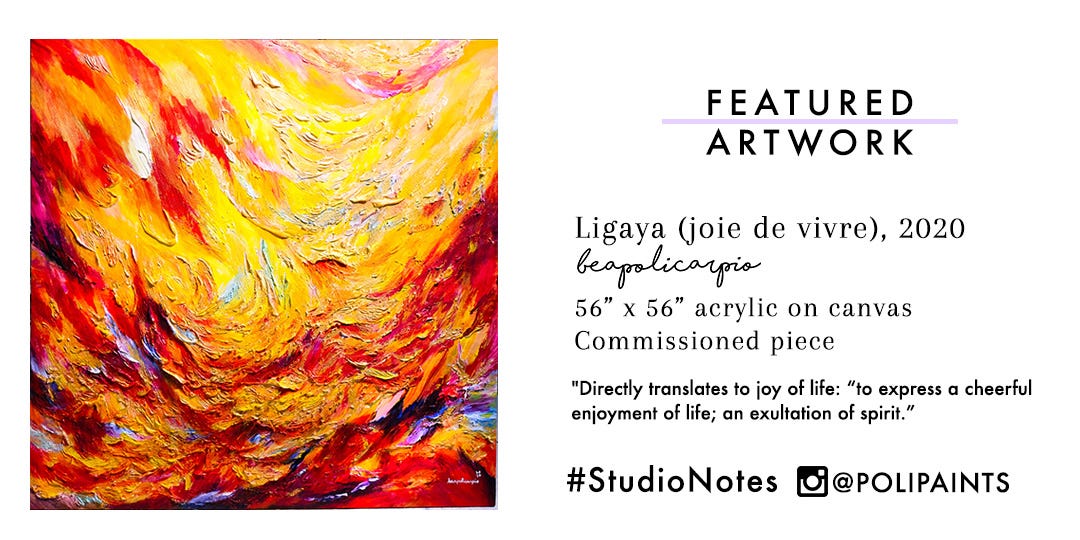 Thank you for your time. Whether you loved, hated, or felt nothing towards this issue of Studio Notes I want your feedback. Reach out via email, IG DMs or Twitter @beapolicarpio.
Read my previous letter, Vol. 10 - Empathy Over Everything