Hello, human!
My name is Bea Policarpio, I am a Filipina artist who also writes. Welcome to my newsletter, #StudioNotes!
Why #StudioNotes exists
In 2020, my new year's resolution was to serve others in a tangible way, not only through my art, but also with my words. In March, Metro Manila was put on total lockdown due to the COVID-19 global pandemic. I struggled to make sense of the uncertainty that lay ahead all of us but more importantly, I asked myself how I could be a gift of time—rather than a waste of time—during this strange season. This sense of purpose is what compelled me to start writing about this creative journey, combining wisdom that I had learned from others with lessons I needed to remind myself of. I figured—what are we all here for if not to inspire one another?
This passion project was born out of three lifelong goals:
I want to connect in a deeper way with the online community beyond the usual feed and story posts which tend to keep us on the surface.

I want to serve more concretely through my creative pursuits and share with others what I've learned along this journey.

I love writing and one day hope to publish a book. 
How will you be a gift of time?
So I'll be sending you one letter a week baring my soul and all the gory detai—OKAY, CUT. No. That's not what I'm after.
Here's the deal: You can expect me to drop in your email inbox every Friday night at 6PM, bearing a letter written with love but without all the fluff.
Each week I will discuss a broad theme related to creative living. The stories I tell will sometimes draw from my personal experience, other times from the lives of incredible human beings who have inspired me. I'll be combining this with my favorite materials and shameless references to pop culture: every week you'll receive my recommended resources for your reading, viewing, and listening pleasure. It's an ambitious project for sure, but I promise to deliver value to you to the best of my abilities.
Lastly, I promise not to send you spam mail, meaningless personal rants, quasi-novels, unsolicited videos of me crying and/or desperate attempts at humor. (The last one maaaybe negotiable depending on my mood. Kidding!)
What do you do in the real world?
One of the questions I frequently get asked is what I "actually do" as a full time artist. Well, I make art! I make things happen! I paint! I write! I film! I create content! I share them online! As for hobbies, sometimes I model on Instagram and dance on Tiktok! LOL.
On a more serious note, when I'm not doing any of the above, as of writing I also do client work—creative consultancy, branding and marketing projects, and of course, private painting commissions. Don't worry, we'll get to know each other better over the course of this letter correspondence!
Sending all my love & intensity,
xx B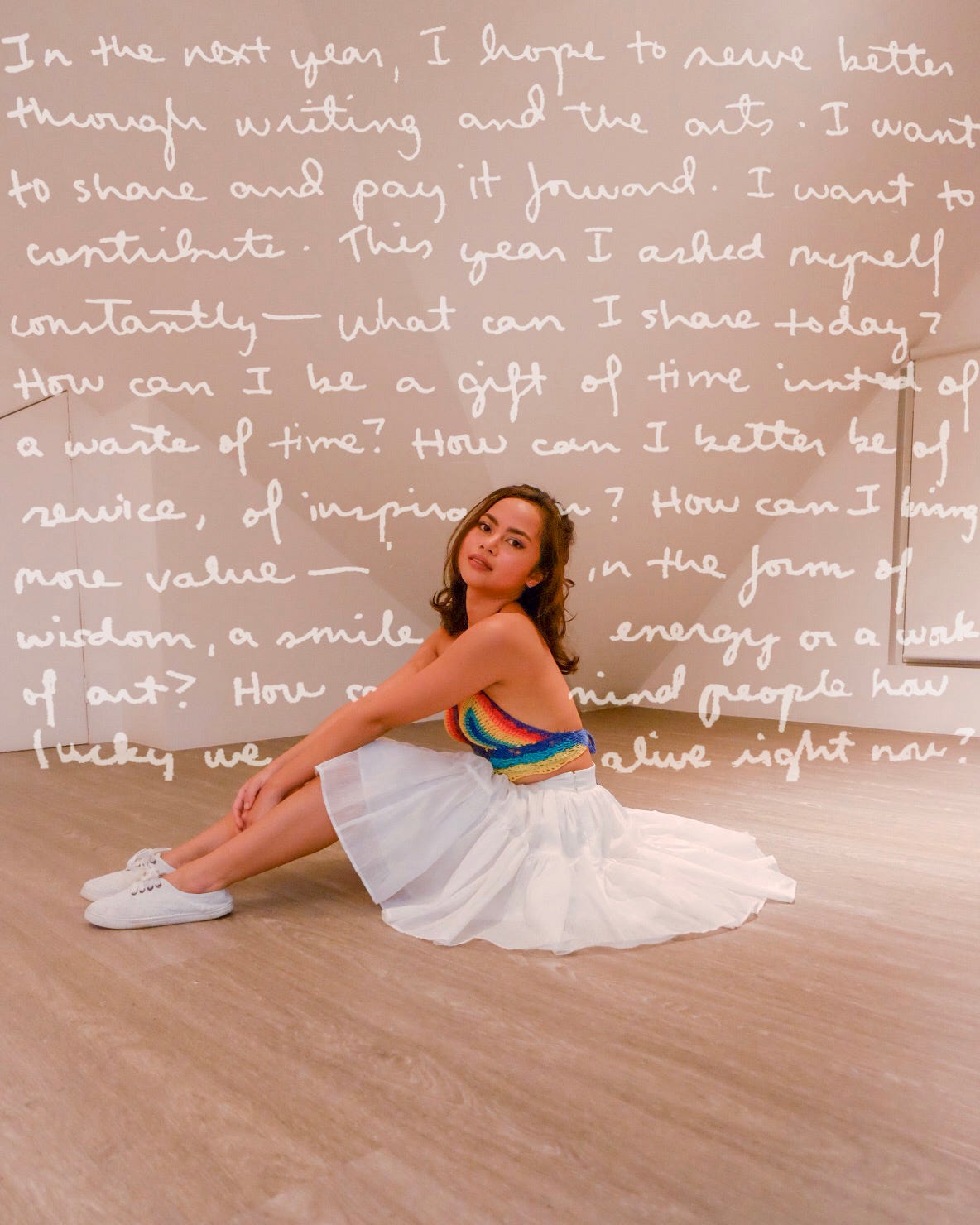 ---
The artist, elsewhere:
@BEAPOLICARPIO | @POLIPAINTS | Blog | Twitter | Facebook | Tiktok | Art Tiktok
Shop Originals: The Artling | Cartellino
Shop Prints: Artdrop | Paragon


Subscribe to Studio Notes by Bea Policarpio
People